Kosovo violence: Poll re-run is ordered in Mitrovica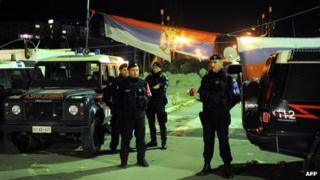 Kosovo officials have ordered a partial re-run of elections after masked men disrupted voting in ethnic Serb areas.
Kosovo's electoral commission annulled results from three polling stations in the Serb-dominated town of Mitrovica, after ballot boxes were damaged.
The local polls were the first that Serbia had supported since Kosovo declared itself independent in 2008.
Serbia and Kosovo had hoped that peaceful local elections on 3 November would help their EU membership bids.
Sunday's voting was disrupted in Serb-dominated parts of Mitrovica, in northern Kosovo, when masked men attacked voting staff and destroyed voting material.
In a statement, Kosovo's central electoral commission said results from three polling stations in Mitrovica were "annulled due to damaged ballot boxes".
"The date for a repeat vote in these three polling centres will be determined later," the commission said.
'Important test'
Votes cast in other municipalities where Serbs are a majority were expected to be counted as valid.
The elections for councils and mayors were held as part of an agreement reached in April between Kosovo and Serbia on normalising relations - a key condition for the European Union to approve the start of membership talks with Belgrade.
The prime ministers of Kosovo and Serbia, Hashim Thaci and Ivica Dacic, discussed the voting at a meeting in Brussels on Wednesday.
Arriving for the talks, Mr Thaci said the elections had been "an important European test for Kosovo and we have successfully passed".
The European Union's foreign policy chief Catherine Ashton, who chaired the Brussels meeting, condemned Sunday's violence and called for an investigation without delay.
In a statement, Baroness Ashton said Ivica Dacic and Hashim Thaci had agreed over how to complete the electoral process, which is the starting point for an association of Serb-majority municipalities in Kosovo with powers over areas such as health and education.