Berlusconi family 'feel like the Jews under Hitler'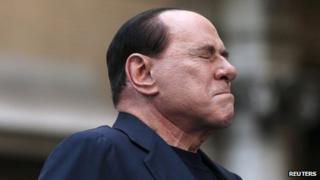 The former Italian Prime Minister, Silvio Berlusconi, has said his children "feel like the families of Jews... under Hitler's regime".
In an interview for Italian television, Berlusconi, who claims he is being hounded by the judiciary, said "the whole world is against us".
In August he was convicted for tax fraud and is facing further allegations and the loss of his parliamentary seat.
Jewish groups described his comments as inappropriate and incomprehensible.
Renzo Gettegna, of the Union of Italian Jewish Communities, said they were "offensive to the memory of those deprived of every right and, after atrocities and unutterable suffering, their lives".
Nichi Vendola of the head of the Left, Ecology, Freedom (SEL) party tweeted: "To trivialise a terrible tragedy such as the Shoah for an everyday political polemic as Berlusconi has done is chilling."
Berlusconi is no stranger to controversy. He is reported to have said that "Mussolini never killed anyone. Mussolini used to send people on vacation in internal exile."
And he once compared the president of the European Parliament, Martin Schulz, to a Nazi prison guard, and described US President Barack Obama as "suntanned".
Berlusconi blames his long history of legal woes on left-wing magistrates who, he says, are determined to ensure his political demise. He insists he is innocent.
In an angry video message broadcast after his prison sentence for tax fraud was upheld by Italy's highest court, Berlusconi said he had been the victim of "judicial harassment that is unmatched in the civilised world".
In 2009, after his immunity from prosecution was lifted, he declared: "I am without doubt the person who's been the most persecuted in the entire history of the world and the history of man."
Later this month, Italy's Senate will vote on whether Berlusconi - who has also been barred from holding public office for two years - should be stripped of his seat under a law banning convicted criminals from parliament.
Correspondents say if he is banned it could open up the risk of arrest in other criminal cases.