Copy of Napoleon's will goes under the hammer in Paris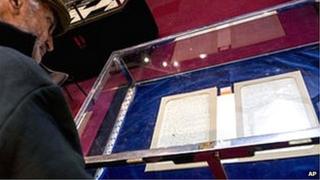 The only known copy of a will made by the former emperor of France, Napoleon, is to be auctioned later in Paris.
Dozens of people have visited the auction house to see the last testament of the general who died in exile.
The will was written 19 days before his death on St Helena island in 1821.
The original document is in France's national archives. But the copy, written by a close adviser, is described as "very special" by Pierre Gheno, an expert on Napoleon.
It is expected to fetch 120,000 euros ($162,000).
"We get access to Napoleon's intimacy," said auctioneer Christophe Castandet.
"He makes decisions on who will get his jewellery, and who will get his gold, his garments, we are just a few days before his death, in the intimacy of the man who turned Europe upside down," continued Mr Castandet.
The will gives details of Napoleon's six years of captivity on St Helena at the hands of the British following his defeat at Waterloo in 1815.
The once-feared general, who conquered half of Europe, had nothing more than a few jewels, sculptures, porcelain crockery and the odd painting at the time of his death.
In the document, Napoleon requested that his ashes be scattered along the river Seine - a wish, which historians say, was denied by the then king of France. It was not until 19 years after his death that Napoleon was returned to mainland France and interred in the Invalides monument in Paris.