German call for inquiry into British embassy 'spying'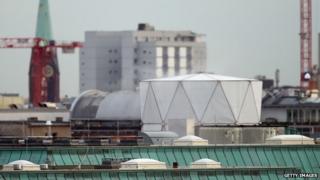 The head of the German parliament's intelligence committee has called for inquiries into alleged spying by the British embassy in Berlin.
Thomas Oppermann said the committee had asked both Germany's law enforcement services and its intelligence services to investigate the alleged "crime".
Germany's interior ministry has asked British ambassador Simon McDonald to explain the embassy's activities.
He earlier attended a meeting at the foreign ministry.
Klaus-Dieter Fritsche, state secretary at the interior ministry, asked Mr McDonald why the embassy allegedly possessed eavesdropping equipment and whether it had been used to spy on the government or parliament, Germany's DPA news agency reports.
German media seized on a report in the UK's Independent newspaper which alleges that a tent-like structure on top of the embassy is an electronic listening post.
An espionage expert, Professor Richard Aldrich, told the UK's Press Association: "We now have documentary evidence to show that Britain regularly runs covert listening stations out of embassies and consulates, as does everybody else."
'Scandal and crime'
The Independent's report was based on US National Security Agency (NSA) documents leaked by fugitive US whistleblower Edward Snowden.
Britain, it suggested, was operating a covert listening station close to the Bundestag, Germany's parliament, and Chancellor Angela Merkel's offices.
"Spying carried out from the British embassy would be a scandal and a crime," Thomas Oppermann, who chairs the Bundestag's intelligence committee, told BBC News on Wednesday.
He is a member of the Social Democrats (SPD), who are likely to become the junior partner in a future German coalition headed by Mrs Merkel.
"We have asked the law enforcement agencies to investigate," Mr Oppermann added. "We have also asked the German secret services to look into espionage by allies. From now on we work on the principle 'Trust is good, monitoring is better.'"
On the matter of Mr Snowden, he said: "We have asked the government to look into ways of speaking to Mr Snowden in Moscow, provided there is no risk or threat posed to him."
An MP from Mrs Merkel's Christian Democrat (CDU) party mooted a formal "no-spy" agreement with the UK. Wolfgang Bosbach was quoted as saying by Germany's Spiegel magazine that a "no-spy agreement" needed to be signed with the UK.
"Such full-blown spying is completely inacceptable and must be dealt with," he said.
On Tuesday, Mr McDonald met Foreign Minister Guido Westerwelle, an embassy spokeswoman said, without giving details.
According to the German foreign ministry, the head of its European Department pointed out to him that the "interception of communications from the premises of a diplomatic mission would be behaviour contrary to international law".
According to the Independent, the tent structure has been in place since the new British embassy was opened in 2000.
Equipment within the unit "would be capable of intercepting mobile phone calls, wi-fi data and long-distance communications across the German capital", the paper said.
Earlier revelations that the US had listened to mobile phone calls made by Mrs Merkel since 2002 led to a serious diplomatic crisis between Washington and Berlin.
Richard Aldrich, Warwick University's professor of international security, said "economic and political intelligence would be a high priority" for use in negotiations - for example, between London and Brussels.
"Just think about the amount of friendly spying about the Maastricht Treaty in the 1990s," he added.