Mystery Dublin girl may be 19-year-old student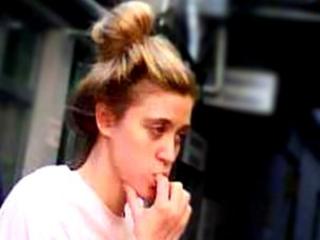 A girl found in a distressed state in Dublin last month may be at least 19-years-old and have experienced some kind of trauma.
Initially thought to be 14 or 15, she was found on 10 October and it had been feared she had been trafficked into the country.
She was identified on Tuesday after Irish police released her photograph.
Officers said they were "liaising closely with the Australian police" and "following a definite line of enquiry".
Last week, Dublin High Court granted police permission to release a photo of the female.
The decision was taken after officers said that, despite intensive efforts, they were unable to establish who she was or where she came from.
After coverage of the case on television and the internet on Tuesday, a male acquaintance, who knows her family in Australia, contacted a special incident room at Store Street station in Dublin that had been set up to discover her identity.
It was initially thought she was aged between 14 and 16 and from somewhere in Europe.
However, it is understood the woman, who is called Samantha is 19 or 20, or possibly even older, and is a student.
Missing persons
It is also thought she had been in Ireland for a couple of months by the time she came to garda attention.
The development brings to a close Operation Shepard, a massive investigation involving over 2,000 man hours and 115 separate lines of inquiry over the past four weeks.
The investigation team contacted Interpol, the missing persons bureau, the forensic science laboratory, the domestic violence and sexual assault unit and national immigration authorities.
They also went through city centre CCTV footage, contacted social services and homeless shelters, bed and breakfasts, hostels as well as airports and ports throughout the country.
Samantha is now in the care of Ireland's Health Service Executive (HSE).
"(We) will be liaising closely with the Australian police and the HSE to finalise the matter," Irish police said.
The Australian Federal Police (AFP) confirmed it received a request for assistance from Irish authorities through Interpol.
"The AFP, in conjunction with appropriate state police forces, are assisting Irish authorities with this request," said a spokesman.
"As this matter is ongoing, it is not appropriate for the AFP to comment any further."