Netherlands court bid over Russia Greenpeace detentions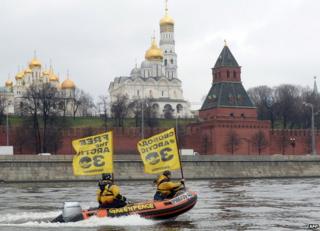 The Netherlands is asking a UN tribunal in Hamburg to order the release of 30 people seized by Russia after an oil drilling protest in the Arctic.
Twenty eight activists and two journalists who were aboard the Greenpeace ship Arctic Sunrise are accused of hooliganism.
Russia is not attending the hearing, as it is not party to some UN Law of the Sea dispute procedures.
In Moscow, police made arrests after a protest on the city's river.
Transport police detained four people after activists, riding in two speedboats on the River Moscow, passed the Kremlin with banners which said "Free the Arctic 30".
Dutch-flagged
Moscow has opted out of UN Law of the Sea procedures that concern the "law enforcement activities in regard to the exercise of sovereign rights".
The Greenpeace activists were arrested after staging a protest against Arctic oil drilling at a Russian fixed gas platform.
They were initially charged with piracy, but the charges were later reduced to hooliganism.
Russia argues it was entitled to make the arrests because it claims the activists were breaking Russian laws.
All 30 people on the ship have been in custody since 18 September.
The Netherlands took the case of the Dutch-flagged ship and its crew to the International Tribunal for the Law of the Sea in the German city of Hamburg in October.
Lawyers representing the Dutch foreign ministry are appealing to the 21 judges to force the Russian authorities to free the detainees, who come from 18 countries, until their cases are brought before a court.
Two of the crew, nicknamed the "Arctic 30", are from the Netherlands.
The BBC's Anna Holligan in The Hague says the judges' first task will be to decide whether they actually have jurisdiction over the matter, before considering the activists' fate.
Greenpeace denies any wrongdoing. Its lawyers argue that the ship was picked up in an area where free rights of transit should exist.
The detainees are currently being held in pre-trial detention until 24 November. They have complained of being held in harsh conditions at a jail in the northern port city of Murmansk.
Greenpeace said last week that the group was being moved to a prison in St Petersburg.
Leon Varitimos, a member of the Greenpeace support group in the city, told the BBC of efforts to provide them with crucial necessities.
"They didn't have enough warm clothes with them because no-one... knew what was going to happen," he said.
"There were even rats in some people's cells... there was cold wind coming in. We were able to provide them with warm clothes, with better food."
About a dozen Greenpeace activists rallied in front of the tribunal building ahead of Wednesday's hearing, according to AFP news agency.