More of EU budget misspent in 2012 - auditors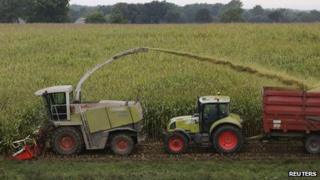 The EU misspent 6.6bn euros (£5.5bn; $8.9bn) of its budget funds last year - an increase on the amount misspent in 2011, European auditors say.
The highest rate of misspending was in rural development and the environment, at 7.9%. Errors in "cohesion" spending for struggling regions totalled 6.8%.
The auditors' report stressed that "errors" was not a euphemism for fraud.
Usually "errors" were allocations to ineligible projects or breaches of public procurement rules.
The EU's total budget spending for 2012 was 138.6bn euros, of which about 80% was jointly managed by the European Commission and authorities in the member states.
The overall error rate rose to 4.8%, from 3.9% in 2011. The auditors said more than half of the errors could have been prevented by national authorities.
Commenting on the findings, a European Court of Auditors official told BBC News: "Our audit of the EU budget is is not directly comparable to audits done by other organisations.
"We produce an annual estimated error rate on the regularity of financial operations, which is not the case for most national governments."
The auditors found many errors in underlying transactions, but despite that, "since 2007 we have signed off on the accounts - they represent materially and fairly the state of income and expenditure of the EU", he said.
He gave as examples of accountancy breaches the lack of a public procurement procedure for a project or service, or a farmer declaring forest as pasture land, resulting in a bigger payout.
Cases of fraud are the responsibility of the EU's anti-fraud agency Olaf.
A conservative member of the European Parliament's budgetary control committee, Ryszard Czarnecki MEP, said "clearly control systems are still lacklustre in far too many areas".
"We must end this annual debacle. It undermines confidence in the EU as a whole. The buck stops with the Commission for these shortcomings, but we all have a responsibility to improve this situation: from the Commission to national and regional governments."
A centre-right German MEP, Markus Pieper, said "failure to abide by public procurement rules and disrespect for eligibility criteria have been sources of errors for years, but the near-doubling of the error rate in agricultural spending is a surprise".