Swiss refiner Argor accused of laundering DRC gold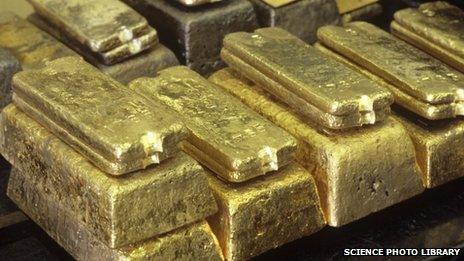 A major Swiss gold refiner is being investigated on suspicion of money laundering linked to the processing of gold allegedly looted from DR Congo.
Swiss federal prosecutors confirmed criminal proceedings against Argor-Heraeus SA, over claims it knew gold it handled in 2004 and 2005 had been taken from DR Congo during an armed conflict.
The case has been brought by the Swiss non-governmental organisation TRIAL.
The Swiss gold refiner said the allegation had "arrived like a bolt out of the blue" and there had been "no request or contact whatsoever from TRIAL beforehand".
The firm said it would "collaborate in complete transparency with the authorities" to prove its innocence.
The Swiss federal prosecutor's office said on Monday that after reviewing the criminal complaint submitted by TRIAL, it had decided to initiate proceedings against Argor-Heraeus "for suspected money laundering in connection with a war crime and complicity in war crimes".
"Given the secrecy of the investigation and function, we are not able to provide more information for now," it said.
TRIAL alleges that gold looted from DR Congo in 2004 and 2005 was smuggled to Uganda and then refined in Switzerland by Argor-Heraeus.
According to TRIAL, the refinery knew or should have assumed that the gold resulted from pillage, a war crime.
DR Congo was in the midst of an armed conflict at the time, driven partly for control of natural resources.
An estimated six million people are believed to have died in DR Congo since 1997.
TRIAL says the sale of the gold "contributed to financing the operations of an unlawful armed group in a brutal conflict".
A report at the time by a UN Group of Experts recommended sanctions against Argor, saying the company must have known the gold was obtained illegally.
Sanctions were imposed only on Ugandan businesses involved in the trade.
TRIAL alleges that Argor escaped sanctions because of pressure applied at the UN by Swiss diplomats.
However, Argor says that "subsequent detailed in-depth verifications executed by SECO and UNO resulted in the removal of the name of Argor-Heraeus from the report and confirmed that the company was in no way directly or indirectly involved in the alleged claim".
Most of the world's gold is refined in Switzerland and the country is also a major trading hub for gold and other commodities.
The BBC's Imogen Foulkes in Geneva says there is growing pressure for traders and refiners to be more transparent.
Argor is owned partly by German company Heraeus, Commerzbank, and the Austrian Mint.
Related Internet Links
The BBC is not responsible for the content of external sites.