France releases sketch of Alps murder motorcyclist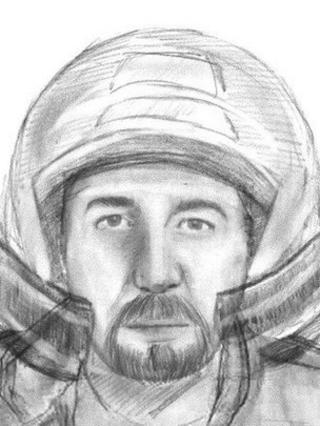 French police have released a sketch of a motorcyclist wanted in connection with the murders of four people in the Alps last year.
Three members of a British-Iraqi family and a French cyclist were shot on 5 September near Lake Annecy.
Investigators say eyewitnesses saw the motorcyclist on the road leading to the murder scene.
The artist's impression shows him wearing a goatee and a rare type of helmet that opens from the side.
Saad al-Hilli, his wife Iqbal and her mother Suhaila al-Allaf were shot along with cyclist Sylvain Mollier on a remote forest road in Chevaline.
The family's two young daughters survived the attack, one by hiding under her dead mother's skirt.
'Close to the scene'
Police say the helmet the motorcyclist was wearing is of particular interest as only 8,000 were made in the black or dark colour described by witnesses.
It is a full-face model that opens from the side to allow for conversations, without the rider having to remove the helmet.
"The only helmet on the market that matches this description is the ISR-type GPA helmet," police said in a statement.
Despite checking with distributors, police have been unable to trace the owner.
The BBC's Christian Fraser in Paris says witnesses gave a description of the motorcyclist to police in the early stages of their investigation, but the artist's impression was not released for fear the suspect would go into hiding.
"This is someone who was close to the scene during a time period that interests us," a spokesman for the investigation said.
Brett Martin, a British cyclist who discovered the attack, told the BBC's Panorama programme he saw a motorcyclist leaving the scene of the shooting.
"He was going at a very slow, abnormally slow speed, and at the time it seemed odd," he said.
A forestry worker coming down from a nearby mountain just minutes before the shooting also spoke to the programme.
He said: "When I arrived, there was a motorbike pulling in to the parking area. I passed the parking and the motorbike was on the left here.
"I remember it well, it was white, white and black, with panniers on either side.
"The rider was all in black [and] his visor was completely closed."
Police say the motorcyclist they want to speak to was on the Combre d'Ire road in Chevaline, near Annecy, between 15:15 and 15:40 local time (13:15 and 13:40 GMT) on the day of the killings.
They are also looking for a right-hand drive BMW 4x4 that was spotted close to the scene.
Mr al-Hilli's brother Zaid was arrested by British police in June on suspicion of planning the killings. He has protested his innocence but admits the pair had fallen out over their father's inheritance.