Spanish royal's property impounded in corruption case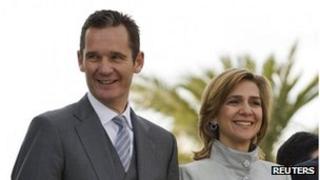 A judge in Spain has ordered properties belonging to the king's son-in-law to be impounded amid a corruption scandal that has embarrassed the royal family.
Inaki Urdangarin, the Duke of Palma, is suspected of misusing millions of euros in public funds that were given to a charitable foundation he ran.
The judge ordered the seizure to cover a 6.1m euro (£5.23m: $8.2m) bond for the duke's liability in the case.
The duke has denied wrongdoing and has not been charged with any crime.
The former Olympic handball player is married to King Juan Carlos's second child, the Infanta Cristina.
One of the properties targeted by the judge is a large luxury house on the outskirts of Barcelona belonging to the duke and Princess Cristina.
Several other properties belonging to them in the Balearic Islands and in north-east Spain have also been seized.
The duke and his former business partner Diego Torres are suspected of siphoning off money given by regional governments to the Noos Institute to organise sporting events.
It is alleged that some of the money ended up in companies controlled by the duke and in offshore bank accounts.
The events allegedly happened between 2004 and 2006, when the duke stepped down as head of the institute.
Mr Torres has also denied any wrongdoing.
The duke was suspended from official royal engagements in December last year.
The princess, who is seventh in line to the throne and also denies any wrongdoing, recently moved to Switzerland in the hope of shielding the couple's children from unwanted media attention.
Juan Carlos is credited with guiding Spain's transition to democracy after the death of dictator Francisco Franco in 1975.