Search resumes after man's arm found in County Meath field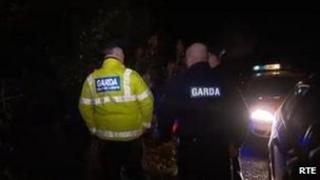 Irish police have begun a search after a man's arm was found in a field in County Meath on Friday evening.
The discovery was made by a member of the public who was walking in an area known as The Mayne, near the village of Clonee, at about 16:30 GMT.
The area was sealed off, but the search was postponed due to fading light.
Specialist police teams started the search at first light on Saturday and their operation is focussing in fields and wooded area close to a stream.
The Irish state broadcaster, RTÉ, reported that police believe the remains are of "relatively recent origin".
The arm was photographed before being removed to a morgue in Navan, County Meath.
Fingerprint and DNA analysis are to be carried out to try to identify the person.