Hollande defends 75% tax despite football strike threat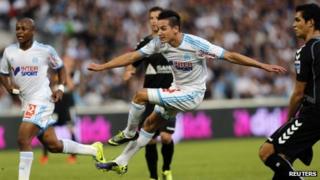 French President Francois Hollande has rebuffed protests against a 75% tax on high earners, prompting football clubs to press on with a planned "strike".
Mr Hollande stood firm by his plan to levy the tax on incomes above 1m euros (£850,000; $1.36m) at a meeting with club presidents.
Polls suggest a large majority in France back the temporary tax.
But many of France's great clubs are financially fragile and say the plans could spark an exodus of top players.
They have joined a chorus of protest from businesses and wealthy individuals who have condemned the tax - including film star Gerard Depardieu, who left the country in protest.
'Justified'
The tax must apply to "all companies concerned", President Hollande was quoted as telling the clubs.
"The need to rebalance public accounts fully justifies this effort asked of companies that have made the choice of paying annual salaries at such a level," Mr Hollande said.
In response, the head of the UCPF club union, Jean-Pierre Louvel, said after the meeting that clubs would refuse to take part in match fixtures from 29 November to 2 December in protest - the first football "strike" since 1972.
The proposed levy will last two years, affecting income earned this year and in 2014.
The initial proposal to tax individual incomes was ruled unconstitutional by France's top court. But the government modified it to make companies liable for the 75% tax rate for salary paid above the 1m-euro mark.
It still requires approval by parliament.
Loss
The government has been forced to backtrack on a number of other tax plans following protests.
This proposal is one of few strongly endorsed in popular surveys - which otherwise suggest more than 70% of the French consider their taxes "excessive" and 80% believe Mr Hollande's tax policies are "misguided".
The Qatari-owned Paris Saint-Germain, France's richest club, has more than 10 players whose pay exceeds 1m euros, including the Swedish striker Zlatan Ibrahimovic.
But many of the other great clubs plead poverty, reports the BBC's Christian Fraser in Paris.
Last season the Ligue 1 clubs registered a combined loss of 108m euros and paid around 700m in social charges and image rights, which was more than they received from the television deals.
The new tax, they say, will hit them hard, sparking an exodus of top players, to the greater detriment of the French domestic leagues.