French chef Vaussion reveals presidential tastes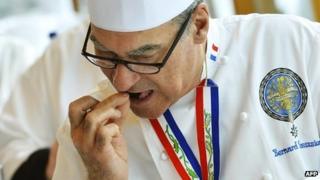 The Elysee Palace's departing head chef has revealed the culinary tastes of several French presidents.
Bernard Vaussion described the presidents he served as "gourmands" but singled out Jacques Chirac as having a particularly fine palate.
Mr Chirac, who once openly criticised British cuisine, enjoyed calf's head, sauerkraut and beer, the chef said.
Nicolas Sarkozy did not eat cheese and Francois Hollande simply likes to eat, according to Mr Vaussion.
But he said he would not reveal all - to avoid the leaders being served the same meal everywhere they go. He is retiring after 40 years' service.
To underline his point he said he only made calf's head for Mr Chirac "two or three times because he was given it everywhere".
Food for thought
Mr Vaussion also said the Elysee was not immune to national food trends. He said there had been a move towards "lighter cuisine" especially under Nicolas Sarkozy, whom he described as having a fondness for chocolate and steamed fish.
"There are a lot fewer dishes with sauces. The sauces are lighter. There is steam cooking.... We adhere to what is happening elsewhere (in restaurants)," he said.
The economic climate too has impacted on eating habits at the palace.
"We buy differently. Some luxury products have disappeared, like truffles (and) crayfish."
Mr Vaussion started as an assistant chef during the presidency of Georges Pompidou in 1974, following a three-year stint as a sous-chef at the British embassy in Paris. He has since catered to the tastes of Valery Giscard d'Estaing, Francois Mitterrand, Jacques Chirac, Nicolas Sarkozy and Francois Hollande.
While it may have been nerve-wracking to cook for presidents, Mr Vaussion says the pressure is even greater when cooking for other world leaders.
"In a restaurant, if there is an error, the customer doesn't come back. Here it is me who would be asked to leave," he said.
In a tribute to Mr Vaussion delivered on Wednesday, President Hollande said he was not only a chef de cuisine but an eminent member of the Elysee household.
Mr Vaussion now passes on the baton to Guillaume Gomez, who joined the Elysee team in 1997, and was awarded a top honour - Chevalier de l'Ordre national du Merite - in 2011.