Media detect mixed messages on US spying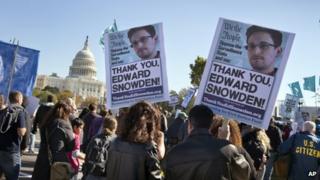 German papers feel that US spy chiefs went "on the attack" in their statements to lawmakers just as politicians appeared to send out more conciliatory signals on the scope of US eavesdropping abroad.
Other media are sceptical of suggestions that in the future the US will no longer target the leaders of its allies.
'Stunning twist'
Spiegel Online is one of several German news websites to feel that US intelligence chiefs went "on the attack" when they testified in front of the intelligence panel of the House of Representatives on Tuesday.
"The hearing in the US Congress showed that criticism from abroad leaves the Americans cold," the website says.
"There was no trace of self-criticism" in the remarks by Director of National Intelligence James Clapper and National Security Agency (NSA) director Gen Keith Alexander, it goes on.
Germany's Sueddeutsche Zeitung concedes that their denial of phone-tapping targeting millions of French and Spanish citizens "appears to be at least plausible" since similar allegations concerning Germans had turned out to be unfounded.
But the daily insists that US agencies and their partners "apparently access data from Germany and other European countries via internet providers in their countries and via submarine cables".
Iran's Press TV says the spy chiefs' claim that European intelligence agencies had collected and shared phone records with the US represents a "stunning twist" in the story.
France's Le Monde notes the suggestion that it and other media outlets have misinterpreted NSA documents under the headline "NSA denies having monitored European citizens".
Meanwhile Spain's El Mundo gives credence to the NSA's version of events. "Not only were the Spanish intelligence services aware of the NSA's activities, they also facilitated its work, according to various documents leaked by Edward Snowden and to which El Mundo has had exclusive access," the paper says.
'Adjustment'
German newspaper print editions, published before the spy chief hearing, highlight signs that US politicians are beginning to yield to international pressure.
The Sueddeutsche Zeitung runs the front-page headline "Obama shows understanding" and quotes the New York Times as saying that the US president wants to ban spying on allies.
"Adjustment in Washington", reads the headline of a front-page commentary in the Frankfurter Allgemeine Zeitung.
The paper welcomes suggestions that the White House is to stop spying on foreign leaders. "Apparently the outrage from Brazil to Germany about NSA activities is not leaving political circles in Washington completely unmoved after all," it says.
But Pakistan's Daily Times remains unconvinced. "While the US will probably promise to its estranged allies that it will quit the snooping, all evidence points to the reputation that the US holds: it will do what it wants but more covertly," the paper says.
Russia's pro-government Izvestia makes a similar point. Europeans "won't even be able to check whether or not the Americans have ceased the surveillance", the paper quotes the research director of the Russian-German forum, Alexander Rar, as saying.
Badge of honour
France's Le Figaro says Barack Obama is in a tight corner. If he did not know that the NSA was spying on foreign leaders, then he "is not in control of his rank and file", the paper says.
But his situation is "no better" if he did know about it since that would leave his promise of a "thorough overhaul of his predecessor's security policy in the name of America's 'values'" in tatters, it suggests.
On a lighter note, a cartoon in Germany's Munich-based tz daily suggests being spied on by the US could become a badge of honour.
"How does that guy expect to negotiate with me as an equal if the Americans don't even listen in on his mobile?" Chancellor Angela Merkel is shown as thinking as she faces an opposition leader in coalition talks.
BBC Monitoring reports and analyses news from TV, radio, web and print media around the world. For more reports from BBC Monitoring, click here. You can follow BBC Monitoring on Twitter and Facebook.