Hurler Conor Cusack reveals struggle with depression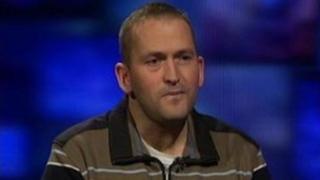 A prominent Irish sportsman has revealed his personal struggle with depression and suicidal thoughts in a blog that has won widespread acclaim.
Conor Cusack said he had broken bones, torn ligaments and had all his front teeth knocked out while playing sport.
However, he said "none of them come anywhere near the physical pain and mental torture of depression".
The former Gaelic Athletic Association (GAA) hurler said on Twitter he had posted the blog as a message of hope to others.
Mr Cusack, who represented Cork in the 2006 All-Ireland hurling final, is from a well-known GAA family.
In his blog, he described how he suffered a breakdown at his workplace at the age of 19 and just "curled up in the corner of the building and began to cry".
He was assessed by a psychiatrist at his local hospital and prescribed medication, but said that within a few months he was taking "about 18 tablets a day and not getting better but worse".
The former sportsman said although he was eating very little, his weight ballooned to 20st (127kg), due to the amount of medication he was taking.
He added that he did not leave his bedroom in his parents' house for five months, except for a weekly visit to his psychiatrist.
He also described how he planned to take his life one Saturday evening, when the rest of his family had left for a match and his mother had gone to church.
Craving peace
The former hurler attributes his mother's unusual decision not to attend Mass that night as having saved his life.
Describing his condition, he wrote: "Depression is difficult to explain to people. If you have experienced it there is no need, if you haven't, I don't think there are words adequate to describe its horror.
"I have had a lot of injuries playing hurling, snapped cruciates, broken bones in my hands 11 times, had my lips sliced in half and all my upper teeth blown out with a dirty pull, but none of them come anywhere near the physical pain and mental torture of depression.
"It permeates every part of your being, from your head to your toes. It is never-ending, waves and waves of utter despair and hopelessness and fear and darkness flood throughout your whole body. You crave for peace but even sleep doesn't afford that," he added.
Mr Cusack also described his later recovery and how therapy sessions with a clinical psychologist helped him get his life back on track.
'Vulnerability'
Through the sessions, he said he was able to confront his memories of being bullied at school, stop taking medication, reduce his weight to 13.5st (85kg) and return to the sport he loved.
"For therapy to work, a person has to be willing to be vulnerable," he wrote.
"Sadly, society conditions men to be the opposite and views vulnerability as a weakness," he added.
The GAA's head of media relations, Alan Milton, said the association acknowledged it has a "role to play" in helping to combat depression and suicide and was very willing to do so.
He said many individual players were personally involved in working with suicide prevention charities, such as Pieta House in Dublin.
Mr Milton added that the GAA as an organisation was considering moves to formalise its links to depression awareness projects.
Mr Cusack is the brother of the better known Cork hurler, Dónal Óg Cusack.
Dónal Óg also received widespread attention in the Irish media in 2009 when he announced he was gay, a rare revelation in the world of Irish sport.