Romania works on US missile shield at Deveselu base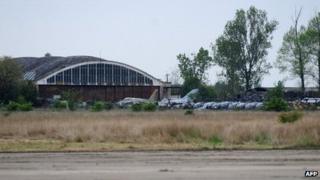 Romania has started building a base which will form part of a controversial US ballistic missile defence system.
The plan is to have the Deveselu base in southern Romania operational in 2015. It will house SM-3 interceptor missiles and radar equipment.
The US government says the missiles will have no offensive capability and only target incoming ballistic missiles launched by a hostile power.
Iran is seen as a potential threat. But the US plan has also angered Russia.
The US Department of State says the shield - called the "Aegis Ashore System" - is a response by the Nato military alliance to "the increasing threats posed by the proliferation of ballistic missiles from the Middle East".
The new Romanian facility would help protect Washington's European allies from a "rogue" missile attack, US officials argue.
Romanian Defence Minister Mircea Dusa said: "This is a serious partnership with the US. It is the first capability of its kind being deployed here in Eastern Europe".
Romania's Agerpres news agency says that Deveselu, a disused airfield, will be converted into a missile defence base with about 200 military and civilian personnel.
The US embassy will also fund the refurbishment of local schools.
Russian officials have expressed concern that the missile defence shield could weaken Russia's strategic missile capability. It has threatened to put more powerful warheads on its ballistic missiles.
Moscow and Washington have been at odds over the issue of missile defence since 2000, ever since the idea was first put forward by then-President George W Bush.