Former PM Silvio Berlusconi relaunches Forza Italia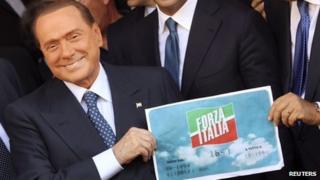 The former Italian Prime Minister, Silvio Berlusconi, has relaunched Forza Italia, the centre-right party that brought him to power two decades ago.
A leaders' meeting voted to suspend the People of Freedom Party (PDL) and restore the name used until 2007.
Deputy Prime Minister Angelino Alfano and other PDL figures were absent from the vote, hinting at party divisions.
Earlier this month party moderates refused to support Mr Berlusconi's attempt to bring down the government.
The national council of the PDL will meet on 8 December to ratify the decision of its leaders.
"With today's decision we returned fully to the status of Forza Italy that gives the president the right and duty to delegate responsibilities and functions," said Mr Berlusconi in a press conference after the meeting.
He said the move had been voted for "unanimously" by those present at the meeting, which was not attended by Mr Alfano, who is the PDL secretary, and four other government ministers.
Turbulent period
"The five members who have decided not to attend tonight agreed that it was better to have a unanimous decision and therefore, with my consent, have not participated," Mr Berlusconi said.
But he insisted that the party was still united.
"We continue to focus on the desire for unity, which is something we all believe in, regardless of any points on which we are divided," he said.
But political observers say a party split is very likely, with Mr Berlusconi's relaunch of Forza Italia indicating that he is attempting to transfer influence towards more conservative elements in the party.
It has been a turbulent period for Silvio Berlusconi.
Four weeks ago Mr Berlusconi promised to topple the government by withdrawing the PDL's support for the cross-party government of Prime Minister Enrico Letta- a move which prompted a vote of confidence by the Senate.
But he was forced into a humiliating climbdown when it became clear that several of his senators would back the government.
In August he was convicted of fraud and tax evasion. The Italian Senate will soon vote on whether to expel him, a move which would open up the risk of arrest over other criminal cases.