Mystery girl Maria's parents found in Bulgaria by DNA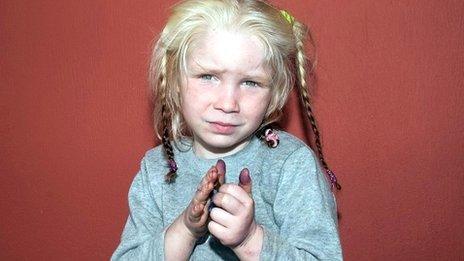 DNA tests have confirmed a Bulgarian Roma couple as the biological parents of mystery child Maria, found in Greece last week, Bulgarian officials say.
They identified the couple as Sasha Ruseva and Atanas Rusev.
The officials are investigating whether the mother had sold the child - a claim she has denied.
Maria was found at a Roma camp in central Greece. Police noticed the lack of resemblance between the blonde girl and the adults she was staying with.
The couple, Christos Salis and Eleftheria Dimopoulou, have since been charged with child abduction. They have insisted the girl was given to them legitimately.
Maria - who was found near Farsala, central Greece - is currently being cared for by the Athens-based charity The Smile of the Child.
There have been thousands of inquiries following an appeal to identify her. The case has also sparked concern over prejudice and racism towards Roma people.
The child's parents - Sasha Ruseva and Atanas Rusev - and their eight children, had been filmed earlier by Bulgarian television at their home in the Roma district of the central town of Nikolaevo.
Ms Ruseva, holding a child with red hair, told reporters that she and her husband had been working in the Greek city of Larisa four years ago when she gave birth to a girl.
The girl was seven months old when they had to return to Bulgaria, and she said she could not afford to take the child with her.
She said she was talking to a woman she worked with who told her: "Give me this child, I will take care of it. You can come and take it back any time you want.
"But I had other children to take care of and I couldn't go... I have never got any money for it."
Bulgarian officials said that during questioning, Ms Ruseva said she had recognised Christos Salis and Eleftheria Dimopoulou as the people she had left her child with.
Prosecutors have pressed preliminary charges against Ms Ruseva for "deliberately selling a child while residing out of the country".
In Greece, a lawyer representing the couple in the Roma camp near Farsala said on Friday they planned to seek legal custody of Maria.
"Provided what we said is borne out, that it was not an abduction, then logically they will be released from prison and they will be able to enter a proper [adoption] process," Costas Katsavos was quoted as saying by the Associated Press news agency.
"They truly and ardently want her back," he added.
Maria's biological parents in Bulgaria also say they want to be re-united with her.
However, the head of Bulgaria's social services department, Lidia Hristova, told Reuters: "After an investigation, we will decide what would be best for the child, whether to take her from the family, to offer social service, or so on."
There will now be difficult questions for police both in Greece and Bulgaria, the BBC's Mark Lowen in Athens reports.
He adds that clearly there will still be a legal case against the Greek couple, and possibly against Maria's parents as well.
But Greek police could be left red-faced for making the initial allegations of abduction, our correspondent adds.
Greek news site zougla.gr has published what it says is Ms Ruseva's identity card and a birth certificate for Maria from a hospital in Lamia, not far from Farsala and Larisa.
The birth certificate says the girl was born in January 2009.
Christos Salis and Eleftheria Dimopoulou have told police Maria was four years old, but the Smile of the Child charity say medical examinations suggest she is more like five or six.