Czech Republic election officials begin vote count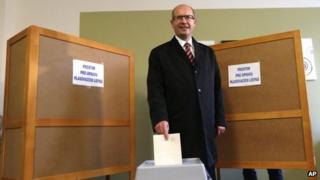 Votes are being counted in the Czech Republic after an election aimed at electing a new government after months without a proper administration.
The last elected government collapsed in June amid a corruption scandal.
A subsequent attempt to form a caretaker government failed because it could not win a vote of confidence.
Opinion polls suggest the Social Democrats will take about 25% and win, but it is not clear if they will be able to form a stable coalition.
Polling took place over a period of two days.
Suspicion of president
If they win, the Social Democrats may team up with the Communists, who - opinion polls suggest - are on about 18%.
Otherwise, Social Democrat leader Bohuslav Sobotka may try to survive in a minority government.
In third place is a new party led by billionaire businessman Andrej Babis.
He may be another coalition option for the Social Democrats, many of whom are dismayed at the prospect of helping the Communists back to power two decades after they were forced out.
Support for the centre-right has collapsed since the coalition formed by Petr Necas after the 2010 elections imploded.
His government fell as the result of a corruption and abuse-of-power scandal involving the prime minister's chief-of-staff.
Czechs had also tired of its austerity programme, amid an 18-month recession that ended earlier this year.
Another factor in the election is the role of President Milos Zeman.
A former member of the Social Democrats, he has fallen out with the party.
Critics fear that if the election result is inconclusive, he may take advantage to pursue his alleged goal of moving power from parliament to the presidency.
One opponent, artist David Cerny, made his protest visible this week by floating a huge purple middle finger along the Vltava river in front of the presidential castle.
What is at stake here is not only the search for stability after the spectacular demise of Petr Necas's centre-right government, says the BBC's Rob Cameron in Prague.
The election is also a referendum on the established political parties - right and left - who have governed this country in various constellations for 20 years, our correspondent says. They are asking for another chance; a crowd of colourful newcomers are clamouring to be let in, he says.