Greenland awards London Mining huge iron ore project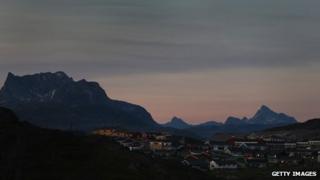 Greenland has awarded UK-based company London Mining a 30-year licence to build and run a giant iron ore mine.
Greenland's industry minister called it the largest commercial project in the autonomous Danish territory's history.
London Mining is expected to seek investment partners for the multi-billion dollar project.
Some opponents say the open-cast mine will cause environmental damage; others are concerned about plans to bring in up to 3,000 mainly Chinese workers.
The iron ore deposit is located 150km (about 90 miles) from Nuuk, the capital of Greenland.
In a statement on its website, London Mining said the mine was expected to produce 15m tonnes a year of "very high quality iron ore concentrate to the global steel industry".
It said the ore concentrate could be shipped year round from a dedicated deep water port.
Safeguards
The Greenland government hopes the mine will boost the economy, which is largely dependent on fishing and subsidies from Denmark.
"This is indeed a historic moment for Greenland," said Industry and Minerals Minister Jens-Erik Kirkegaard.
He said "the largest commercial project to date in Greenland" would boost employment and state revenues - in line with a pledge made by the governing Social Democrats to draw foreign companies to help tap Greenland's resources.
The project, known as Isua, is expected to bring in 3,000 workers to Greenland, which has a population of about 56,000, to help build and operate the mine and related infrastructure.
London Mining, in a report from June 2010, said it had "identified significant economies of scale, and the involvement of Chinese construction groups is anticipated to deliver significant cost savings".
Environmentalists say they want reassurances that the exploitation of the deposits will not come at the cost of extensive environmental damage.
"I really hope that the Greenland government has sold itself at a high price, so that London Mining lives up to far stricter requirements than they originally would have done," said Gitte Seeberg, the secretary general of WWF Denmark.
She said the Greenland government should insist that the mine be powered by hydroelectric power rather than diesel, and that there should be safeguards to deal with problems such as the dramatic increase in traffic.