Hurler Niall Donoghue dies suddenly at Galway home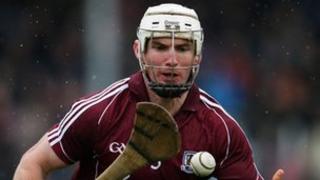 The hurler Niall Donoghue has died suddenly at his home in County Galway.
The 22-year-old, from Kilbeacanty, played a key role for the Galway team that won its first ever Leinster title in 2012.
He was regarded as one of the county's most promising hurlers and helped his county win the under-21 championship in 2011.
In a statement, Galway GAA said it was in "shock" at the news of his "tragic and untimely death".
"On behalf of the entire Galway GAA community, at home and abroad, we extend our heartfelt sympathy to Niall's family and especially his father Francis, brother Shane, sister Orla, uncles, aunts, and all his relatives," the statement added.
"We offer all our condolences also to the members of Niall's club and parish, Kilbeacanty, to his fellow inter-county panellists on the Galway hurling team, and to his many friends and colleagues.