Roma children: Police acted in good faith says Shatter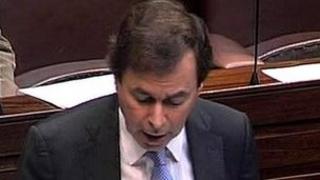 Ireland's justice minister has said he is confident police acted in good faith in the cases of two Roma children removed from their families this week.
The children - one in Dublin and one in Athlone - were taken from their families amid fears that they did not belong to them.
However, the authorities' concerns in both cases proved unfounded.
Mr Shatter said it was important that any lessons that needed to be learned were learned.
Speaking to Irish state broadcaster RTÉ, he said there was possibly some undue influence in the decisions that were made.
But he said that in the past police had been criticised for not acting quickly enough, so they were "damned if they do and damned if they do not".
Mr Shatter said the families and children involved had clearly been involved in a traumatic situation.
He said he hoped to receive a report on the matter within the next two weeks.
'Welfare of children'
The prime minister, Enda Kenny, said the situation was not about any group or minority but was about the welfare and safety of children.
Mr Kenny said there was a balance to be struck.
Meanwhile, the head of the police in the Republic of Ireland is to report on the handling of the cases of two Roma children removed from their families and later returned.
Garda Commissioner Martin Callinan will detail the procedures followed by police in the separate cases.
Irish police acted against the background of international interest in the case of a blonde-haired child being taken from a Roma family in Greece last week.
Greek police are investigating whether the girl had been abducted. DNA tests on the child proved that the couple looking after her were not her biological parents.
In Ireland, police were alerted to a blonde child living with a Roma family in Dublin.
She was removed from them on Monday and kept in care for two nights. But DNA tests proved that the seven-year-old girl was their biological daughter.
The family said they were "delighted" that their daughter had come home. They also said they would be taking legal advice, and that serious questions have arisen over the procedures used in the case.
A two-year-old boy from a Roma family in Athlone, County Westmeath was taken into care for one night but has now been reunited with his parents.
That family now want an explanation for what happened.
Irish police have defended their actions, saying that the protection of vulnerable children was of paramount importance and all reports received from members of the public concerning child welfare issues were taken very seriously.
"In all cases, immediate steps are taken to protect the welfare of the child in accordance with relevant statutory provisions and obligations," police said.