EU's 'biggest synthetic drugs site' found in Belgium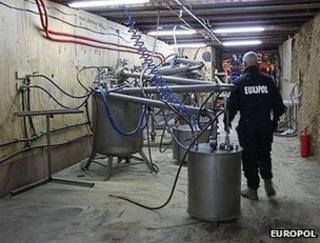 Police in Belgium have uncovered what is said to be the biggest synthetic drugs production site in the EU, inside an old pig shed, making five arrests.
They swooped on the site near the north-eastern town of Opglabbeek, close to the Dutch border, Europe's police intelligence agency Europol said.
Four Dutchmen and one Belgian man were arrested on suspicion of belonging to an organised crime group.
Shortly after the raid, a suspicious fire broke out in the shed.
The site was reportedly equipped to produce several hundred kilos of ecstasy a week. Spread over 1,000 sq m (10,764 sq ft), it contained high volume custom-made equipment, Europol said.
Police seized and removed 35 tonnes of chemicals, finding materials and products valued at around 3m euros (£2.5m; $4.1m). Europol described it in a press release as the "largest synthetic drugs production site ever found in the EU".
In August, synthetic drugs were found at a laboratory in southern Belgium with a street value of 1.3bn euros, according to Belgian prosecutors.
'Huge fire'
"With a street value of between 2,250 to 6,000 euros per kilo, MDMA [ecstasy] produced from this laboratory is likely to have resulted in several million euros of turnover each month during active production," Europol said after the new find.
The raid took place on Friday but was only reported by Europol on Wednesday.
In the early hours of Monday, a suspicious fire broke out in the pig shed, destroying equipment which had not been removed by police.
"The fire was so huge that the exact cause cannot yet be confirmed. However, due to the suspicious circumstances, police cannot rule out that it may have been a deliberate attempt to destroy evidence," Europol said.
The laboratory found in August was discovered in a rural area near Chimay. Nine men and two women, aged 30 to 50, were arrested and charged with possessing, manufacturing and trafficking drugs.
The suspects, from Belgium, Turkey and Poland, were part of an international criminal group, police said.
Europol supported Belgian authorities with intelligence analysis during the latest operation and Europol experts helped dismantle the laboratory.
"Large-scale MDMA production is back in the EU and we will make it a priority to identify the organised criminal structures responsible," Michael Rauschenbach, Europol's head of serious and organised crime, said on Wednesday.