Italy ex-PM Silvio Berlusconi to face bribery trial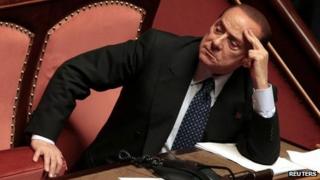 Italian ex-PM Silvio Berlusconi has been ordered to stand trial for the alleged bribery of a senator.
Berlusconi is accused of paying the left-wing senator 3m euros ($3.9m) to defect to his party in 2006 and help bring down the government.
The senator, Sergio De Gregorio, was sentenced to 20 months on Wednesday at a plea bargain hearing in Naples.
Berlusconi has been embroiled in a number of trials and says he is the victim of a campaign by the judiciary.
He has denied any wrongdoing in this case. His lawyer, Michele Cerabona, said he was confident about the outcome when the trial starts in February.
Also charged in the latest case is Berlusconi's former aide, Valter Lavitola, who is accused of being an intermediary in the alleged bribe.
'Reprehensible'
The defection of De Gregorio, a senator from Naples, to Berlusconi's People of Freedom (PDL) party weakened the government of Romano Prodi, which collapsed in 2008 and triggered elections that returned Berlusconi to power.
De Gregorio said on Wednesday: "I urge Silvio Berlusconi to leave the political scene, which would free Italy from a lot of dirt."
He added: "I now believe I behaved in an absolutely reprehensible way and was aiming to bring down the Prodi government as part of a sort of holy war being waged by Berlusconi."
Mr Lavitola appeared at the Naples hearing, telling it that "there is no proof that I could have known that it was money for a bribe. I would have been simply a conduit".
Mr Lavitola was placed under investigation in 2011. He left for South America shortly afterwards and was arrested on his return in April 2012.
Berlusconi's supporters have rallied to his defence.
PDL lawmaker Daniele Capezzone told Agence France-Presse: "I think Italians fully understand that what has been happening in the past few years is an attack against a political leader who was freely and democratically chosen by millions."
Berlusconi, 77, has faced a series of court cases in recent years.
On Saturday a court in Milan banned him from holding public office for two years, following his conviction in August for tax fraud.
The ban has still to be voted on in parliament.
A cross-party panel of the Italian Senate has also recommended his expulsion from the chamber, which means he will lose his parliamentary immunity from prosecution in a string of criminal cases.
The votes on his expulsion and ban on holding office are expected to take place within the next few weeks.
Berlusconi is currently appealing against convictions for sex with an underage prostitute, abuse of power and leaking confidential information.
Early this month, Berlusconi suffered political humiliation when forced to perform a U-turn in parliament on a confidence vote.
Berlusconi had promised to topple the government of PM Enrico Letta by withdrawing his party's support.
But he backed down when it became clear that several of his PDL senators would support the government.