Focus on growth on eve of EU summit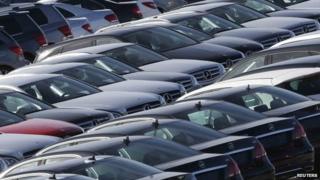 The summer is past and European summits return. Europe's leaders gather in Brussels on Thursday with the markets becalmed and some economic statistics to celebrate.
Even the threat - a few weeks back - of the Italian government falling scarcely ruffled the markets. The promise by the president of the European Central Bank, Mario Draghi, a year ago, to do whatever it takes to defend the euro continues to act as a shield against the bond market vigilantes. No one, it seems, is prepared to bet against the ECB.
It is true that almost on a daily basis there are reassuring signs of progress.
The Spanish economy has just edged out of recession after two years. Since 2008 its exports have grown by an impressive 14.6%. Unemployment at above 26% may have peaked. Italy is running a trade surplus and Greece this year will register a primary budget surplus excluding debt repayments. Ireland is set to exit its bailout programme in mid-December.
And yet despite all the austerity and spending cuts the level of debt, amongst the countries that use the eurozone, is still rising.
French unemployment, which was down in August, is set to rise again. Italy is struggling to bring down its labour costs without which it cannot be competitive. The Greeks are locked in argument with their lenders over a budget gap. It may need further funding. It was revealed this week that Greeks are, on average, 40% poorer than in 2008.
Even the most Panglossian of Europe's leaders recognises that the recovery is fragile and solid growth is needed so in Brussels the leaders will concentrate on supporting and expanding the digital economy and building a single digital market.
Discussions on telecoms, copyright, data protection, credit card payments and digital signatures can appear dry but are all central to what potentially will be the fastest growing economic sector in the future.
Waiting for Germany
UK Prime Minister David Cameron will try to focus the dinner conversation on reducing red tape and on revealing the cost of EU regulations to the business community.
The difficulty for the European heads of government is that many of these ideas and initiatives take time when there are 26 million people out of work in the EU. Growth of at least 1.5% is needed to start reducing the unemployment lines.
In the short term, the most important step is to make it easier for small- and medium-sized companies to borrow at affordable rates.
Even while the focus is on growth, important decisions about the euro lie ahead but they cannot be taken whilst Germany is still in the process of forming its coalition government.
Almost certainly those decisions will not be taken at this summit. The eurozone has agreed on a banking supervisor but it has not agreed on a resolution mechanism for winding up failing banks. The Germans do not want to pick up the bill. Yet cleaning up the banks remains the eurozone's biggest challenge.
In Germany there is much discussion about Chancellor Angela Merkel's supposed plan for the eurozone. The idea is probably less developed than presented but countries would have to accept binding contracts which would give Brussels more power over national budgets and even social security and pensions.
If that was to happen, the Germans say it would require treaty change and that is strongly opposed by the French. What all this underlines is that in the months and years ahead, Europe will still be building up its defences against the crisis re-occurring.
Free movement?
On Friday the leaders will discuss migration from Africa and the Middle East and the need to prevent further tragedies at sea as occurred off the island of Lampedusa.
Former French Foreign Minister Bernard Kouchner said: "The EU has proved unable to forge a harmonised immigration policy... It is not even able to rescue those who still believe in the European dream." Italian Prime Minister Enrico Letta has said that Europe "cannot sit there and watch" and has called for "immediate action".
There is a general consensus that Europe needs to do more but almost all plans run up against difficulties. Perhaps the least controversial step is to put more resources into Frontex, the agency that patrols the Mediterranean.
Others want to see the EU doing more to prevent migrants reaching the Libyan border. The EU already has a mission in the country but it has been frustrated at almost every level. Libya's borders are now so porous that persuading Tripoli to patrol its own shoreline is unrealistic.
Some leaders will want an open discussion about "burden-sharing" and a change to asylum policy but this is politically sensitive. Very rapidly a discussion about migration can become one about "the free movement of people" within the EU.
There will be expressions of solidarity but if there are to be major decisions about migration and asylum, they may not take place until June next year after the European elections.
So as Europe's leaders come to Brussels their crisis is less acute but the questions remain: how can the EU deliver growth, what further steps towards integration are needed and what does solidarity mean in a union of nation states? All of these questions will be argued over in the year ahead.