French bust 'vintage wine scam'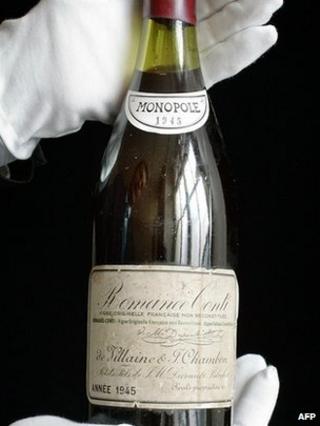 French police say they have broken up a scam in which fake bottles of a top French wine were sold.
They say the fraudsters netted up to 2m euros ($2.75m; £1.7m) from the scheme.
Bottles of poor-quality wine were allegedly relabelled as Romanee-Conti, a Burgundy that is one of the world's finest and most expensive wines.
Two Italian wine merchants have been arrested. They are suspected of selling 400 fake bottles - though it is feared many more may be on the market.
French prosecutors say counterfeit labels were treated with wax to make them look older, and the result was so good that the bottles were near-perfect copies of the real thing.
French police started an investigation after the vineyard said it had become aware of inferior copies being sold. Their investigation reached six European countries, including Britain and Italy.
France has requested the extradition of the two Italians - a father and son - arrested in their home country. Several others have been arrested or questioned.
Dijon prosecutor Marie-Christine Tarrare said: "Other suspects are being sought so that we can present this entire counterfeiting network in evidence."
Romanee-Conti, like other Burgundy reds made from the pinot noir grape, is produced on a small estate of just 1.8 ha (four acres), making it highly exclusive.
In 2011 a 12-bottle case of the 1990 vintage went for $297,000 (£183,000) at auction.