Interpol appeals for wider search for Maria relatives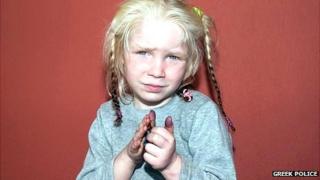 The international police body Interpol has called on member states to make their national databases of missing people available.
The appeal is a further attempt to identify a young blonde girl named Maria, who was found in a Roma camp in Greece last week.
A search on Interpol's worldwide database proved unsuccessful.
Interpol has also requested that the DNA profile be taken of anyone claiming to be a relative and sent to Interpol.
"We took the DNA profile received from the Greek authorities and we compared it to our database. And there was no match," the secretary general of Interpol, Ronald Noble, told AFP news agency.
He said he was hopeful that the huge publicity the case had received worldwide might help find some of her relatives.
"A DNA profile can be taken by the police anywhere in the world, sent to Interpol and compared to the profile sent to us by the Greek authorities," Mr Noble said.
Those countries which do not have national DNA databases are also being encouraged to add all their DNA records of missing children to Interpol's database.
On Tuesday the Roma couple, identified by Greek police as Christos Salis and Eleftheria Dimopoulou, were formally charged with abduction and remanded in custody pending their trial.
They insist that the girl was given to them legitimately.
The case has sparked concern among the parents of missing children around the world.
Greek authorities are investigating whether the girl may have been a victim of child trafficking.
Criminal organisations bring hundreds of children from the Balkans to Greece, where they are subjected to forced labour, sex-trafficking or sold to couples - in Greece or abroad - in illegal adoption schemes.