Record number of women MPs as German parliament meets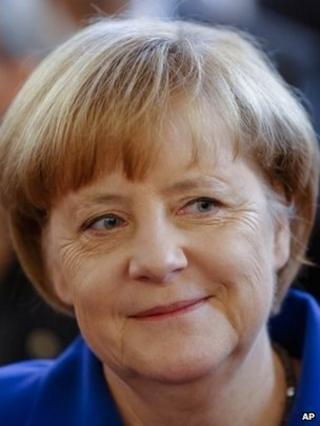 Germany's parliament has reconvened for the first time since September's election which saw a surge of support for Chancellor Angela Merkel.
The new Bundestag, or lower house, has a record number of women members and its first black politicians.
Mrs Merkel is presiding over a caretaker government until she establishes a governing coalition.
She is trying to forge a deal between her Christian Democrat bloc and the centre-left Social Democrats.
Formal coalition talks are due to begin on Wednesday.
Cabinet ministers from Mrs Merkel's former coalition partners, the Free Democrats, were left sitting in the visitors' gallery on Tuesday as the party had lost all its seats in the election.
One-third new
Women make up 36% of the new MPs, where one-third of members are new to the Bundestag.
The election produced the country's first black federal politicians, a Senegal-born chemist and the Munich-born son of a Senegalese father and German mother who is also a former actor.
Mrs Merkel's Christian Democrats have their first Muslim politician, the German-born daughter of Turkish immigrants.
Nearly one in five of Germany's 82 million residents are either immigrants themselves, or children of immigrants who have arrived since 1950, according to Germany's federal statistics office.
After two previous terms in government, Mrs Merkel is expected to come under pressure to maintain Germany's economic growth and its strong position in the European Union.
The Christian Democrats and their Bavarian allies were left just shy of a majority in the election on 22 September, taking 311 seats.
Their talks with the Social Democrats, which may continue for weeks, are expected to focus on the introduction of a nationwide minimum wage, taxation and control of key government ministries.
Meanwhile, the Left and the Green parties have warned that if Ms Merkel is successful in forging her grand coalition, their role as opposition will be virtually meaningless, since a successful "grand coalition" would give Mrs Merkel control over nearly 80% of the house's seats.