Germany's 'luxury bishop' meets Pope Francis in Rome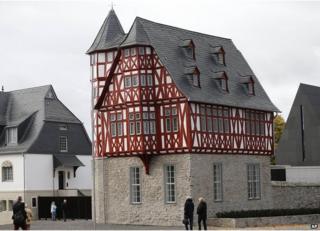 A German bishop criticised for his alleged lavish spending has met the Pope in Rome to discuss his behaviour.
Franz-Peter Tebartz-van Elst, nicknamed "The Bishop of Bling" by the media, has faced calls to resign.
The Vatican has not yet commented on his brief meeting with Pope Francis.
He spent 31m euros (£26m; $42m) on his residence in Limburg - a project costed at about 5.5m euros in 2010. He was also criticised for a first-class flight to India to visit the poor.
Correspondents say the Roman Catholic bishop's style is starkly at odds with that of Pope Francis, who celebrates humility and serving the poor.
The 53-year-old bishop flew to Rome eight days ago.
The allegations have stoked controversy among Catholics in Germany, where Martin Luther launched the Reformation in Europe five centuries ago in response to what he said were excesses and abuses within the Church.
Active German Catholics also pay a tax to the Church as part of their income tax, and many are shocked by the apparent financial waste - prompting some to stage demonstrations outside the bishop's residence in Limburg, a town in Hesse near Frankfurt-on-Main in southern Germany.