Spain Popular Party treasurer 'made cash payments'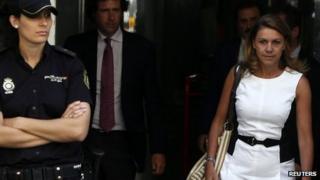 The former treasurer of Spain's ruling Popular Party says he handed thousands of euros in slush fund payments to the party's secretary general.
Speaking by video link from jail, Luis Barcenas said he had given two envelopes with 7,500 euros (£6,350; $10,300) to Maria Cospedal in 2008.
Ms Cospedal - who is suing Mr Barcenas for defamation - denied the claim.
Mr Barcenas is in custody pending trial over corruption claims. The scandal has rocked the party and angered Spaniards.
'Lies and manipulations'
The former treasurer was giving evidence to a court in Toledo on Friday.
He claimed he had personally delivered the cash to Ms Cospedal.
Mr Barcenas added that the slush fund payments were a PP tradition.
Prime Minister Mariano Rajoy earlier this year denied the claim.
He also said allegations that he had personally received illegal payments were "lies and manipulations".
The Barcenas affair sparked widespread anger in Spain, hit by a double-dip recession and high unemployment.
In July, clashes erupted between anti-government protesters and police after more than 1,000 people gathered outside the PP headquarters in Madrid, calling on the government to resign.
Slush-fund list
The scandal originated in a 2009 judicial investigation into corrupt payments involving PP members.
In January this year, El Pais newspaper published an list it said showed illegal payments to party members that had been signed off by Mr Barcenas.
The former party treasurer says he made numerous bonus cash payments to Mr Rajoy and other senior party members out of the slush fund of donations by businesses.
In response, they have accused the ex-treasurer of trying to blackmail them.
The PP was handed a clear mandate by Spanish voters at the end of 2011 and as a result Mr Rajoy and his party enjoy a clear majority in parliament.
The corruption allegations coincide with Spain's worst economic crisis for decades, and have threatened to destabilise government attempts to shore up public finances and bring the recession to an end.