Hospital staff treatment of Savita Halappanavar reviewed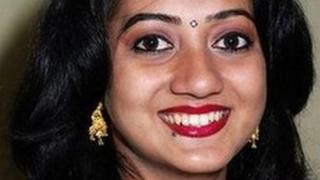 The Republic of Ireland's health service has ordered a review of the actions of all hospital staff involved in treating Savita Halappanavar.
The pregnant 31-year-old died in a Galway hospital in October last year.
She had asked for a termination after being told she was having a miscarriage, but staff refused. Days later, she died from infection.
The West/North West Hospital Group said the process would follow established disciplinary procedures.
Sanctions, including dismissal, could apply.
A review of the case published last week found there was a failure to provide the most basic elements of care
Management at University Hospital Galway will review the actions of all doctors and nurses who were involved in her treatment from the time she was admitted to hospital on 21 October 2012, until her death early on 28 October.
No staff members have yet faced sanctions, as the Health Service Executive said established procedures had to be followed before this happens.
Mrs Halappanavar died one week after she was admitted to the hospital when she was 17 weeks pregnant and miscarrying.
A 257-page report by the Health Information and Quality Authority found there were many missed opportunities, that if acted on might have changed the outcome for her.