Germany election: Greens reject coalition with Merkel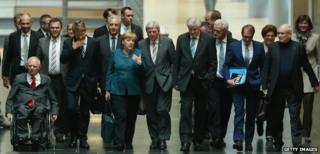 Angela Merkel's options for creating a new coalition in Germany have narrowed after the Greens announced that talks with her party had failed.
The two-term German chancellor's conservative union fell just short of an outright majority at last month's elections.
Its previous ally, the Free Democrats, failed to win any seats so Mrs Merkel is seeking a new partner.
The likeliest outcome now is a grand coalition with the centre-left.
Mrs Merkel's Christian Democratic CDU and its Bavarian sister party the CSU are due to meet the Social Democrats (SPD) for a new round of talks on Thursday.
At the polls on 22 September, the CDU/CSU took about 41.5% of the vote, the SPD won 26%, the former communist Left Party 8.6% and the Greens 8.4%.
Two days of talks between the conservatives and the Greens finished in Berlin on Wednesday.
Claudia Roth, vice-president of the Greens, told reporters afterwards that her party did not want to "negotiate on a coalition".
"Do we have a solid basis for four years of [coalition] government?" she asked. "That didn't seem to us to be the case after these talks."
Hermann Groehe, the CDU's secretary general, confirmed the talks had collapsed.
Key issues for the talks with the SPD are taxation and a proposed national minimum wage.
The SPD, which has not won an election since 2002, has promised its members a vote on a final coalition deal.
If a grand coalition is forged, like the one Mrs Merkel led with the SPD in 2005, it faces the twin tasks of rebalancing the eurozone's biggest economy and winning the support of the German public to tackle the eurozone's debt and banking problems.
The SPD has ruled out a three-way coalition of its own, that would include the Greens and the Left Party.