Police capture Azerbaijani suspected of Moscow murder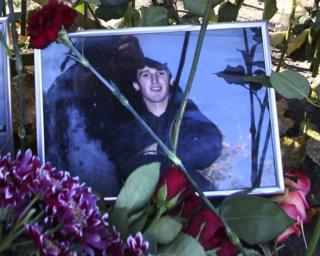 Russian police have captured an Azerbaijani man suspected of murdering a young Russian, whose death led to riots targeting migrants in Moscow.
Police backed by special forces detained Orkhan Zeynalov in Kolomna, 120km (75 miles) from the Russian capital, the interior ministry said.
Yegor Shcherbakov, 25, was stabbed in front of his girlfriend on Thursday.
Ill-feeling has risen towards Moscow's Muslim migrants, thousands of whom gathered for street prayers on Tuesday.
The tension came just as Russia was being commended for tackling racism.
"Substantial efforts have been made to react firmly to the escalation of racist violence in Russia, and there has been a decline in the number of racist attacks," according to a summary of the report by the Council of Europe (CoE), the continent's main human rights watchdog.
The Council of Europe stressed that its report, released on Tuesday, was compiled in June, long before violence erupted in Moscow at the weekend.
On Sunday, in response to Shcherbakov's murder, protesters shouting Russian nationalist slogans attacked businesses in Biryulyovo which employed migrant workers from the Caucasus and Central Asia.
Riot police arrested hundreds of protesters while at least 1,200 people were detained in a follow-up raid on suspected illegal migrants in Biryulyovo.
District police chief Gennady Kaverin has been sacked. No details were given.
An estimated 103,000 Muslims attended mass street prayers outside a mosque in Moscow on Tuesday to celebrate the Islamic feast of Eid al-Adha, police told Russian media. The prayers apparently passed off without incident.
Such huge gatherings have become a tradition in recent years in a city with few mosques and a large, often transient, Muslim population.
'Insult'
Mr Zeylanov's arrest came just hours after police released his name and warned the public not to approach him on sight.
No details of his detention were given other than that he was being brought back to Moscow by helicopter.
Earlier, Moscow police chief Anatoly Yakunin said police had discussed the case by phone with their colleagues in Azerbaijan, a former Soviet republic in the southern Caucasus which has a visa-free travel agreement with Russia.
Police were reportedly alerted to Mr Zeylanov as the suspect after his flatmates in Moscow recognised him from CCTV images released by the media.
He is said to have worked for his uncle as a driver at a vegetable market. Eight of his relatives were arrested in Moscow as police mounted a search for the fugitive, who vanished on Monday night, the Russian tabloid Life News reports.
Yegor Shcherbakov was buried on Saturday. He was stabbed after an altercation with his attacker, who had reportedly insulted his girlfriend, Ksenia Popova.
Writing on social media, Ms Popova said neither she nor her late boyfriend's relatives supported the violent protests over his murder.
Describing her grief after his funeral, she wrote: "Today I kissed you for the last time. Your lips were very cold...
"How painful and terrible to see you in that dark coffin... You never did like suits..."
Nationalism fears
Some 380 people were detained during the rioting on Sunday, when protesters stormed a shopping centre, smashing windows, and then overran a wholesale vegetable market searching for migrant workers.
Chants of "Russia for the Russians" and "White Power" could be heard.
Most of those detained were released with a caution but around 70 face court appearances for administrative offences and three have been charged with public disorder, Interfax reports.
The BBC's Steve Rosenberg reports that the subsequent arrest of more than 1,200 migrant workers at the market shows how worried the authorities are.
They clearly want to convince Muscovites they take the grievances of local residents seriously and will crack down hard on illegal migrant workers but dramatic police raids will do little to ease the tension that is growing in parts of the Russian capital between ethnic Russians and people from the Caucasus region and some former Soviet republics, our correspondent says.
In its report, the CoE also expresses concern that radical nationalism is on the rise in Russia, and there is a high incidence of racist violence, directed predominantly against persons of "non-Slav appearance".
Violations of migrants' basic rights occur "on a massive scale" in the country, it said.
According to the Russian news website lenta.ru, about 10 million migrants, most of them from the poorest republics of the ex-USSR, are working illegally in Russia (population 143 million), with a further three million employed legally.