Germany's CDU and SPD plan third round of coalition talks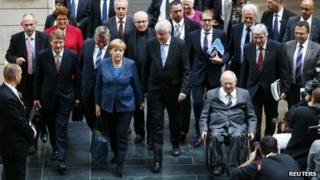 Germany's conservatives and their main leftist rivals are expected to hold a third round of talks later this week on forming a coalition government.
It follows previous lengthy preliminary discussions between Chancellor Angela Merkel's Christian Democrats (CDU) and the Social Democrats (SPD).
The CDU fell just short of an outright majority at last month's polls, when their liberal partner won no seats.
Mrs Merkel is expected to announce a coalition partner within days.
She met the Green Party for a second round of exploratory talks on Tuesday, but the Greens decided they did not have enough common ground to consider a coalition.
It leaves the chancellor to focus on talks with the SPD, which is seen as the likeliest new partner, despite some sharp differences.
Grand coalition
The next round of preliminary negotiations between the two parties could take place on Thursday but a formal announcement is anticipated following the breakdown of talks with the Greens.
Also taking part in the discussions are members of Mrs Merkel's Bavarian allies, the Christian Social Union (CSU).
If the CDU chooses the SPD as its preferred partner, delegates of the leftist party will meet to decide whether to accept formal coalition negotiations.
Key issues are taxation and a proposed national minimum wage. Formal discussions are expected to continue for weeks.
The SPD, which has not won an election since 2002, has promised its members a vote on a final coalition deal.
The CDU's previous coalition partner, the Free Democrats, narrowly failed to cross the 5% threshold for entering parliament at the election on 22 September.
The CDU took about 41.5% of the vote, the SPD won 26%, the Greens 8.4%, and the former communist Left Party 8.6%.
If a grand coalition is forged by the two main parties, like the one Mrs Merkel led in 2005, it faces the twin tasks of rebalancing the eurozone's biggest economy and winning the support of the German public to tackle the eurozone's debt and banking problems.