Louboutin women's shoes banned in anti-Islam advert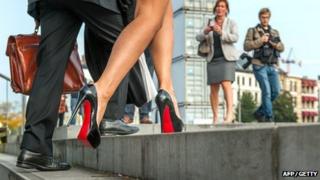 Luxury shoe designer Christian Louboutin has won a legal battle to stop his shoes being used in an anti-Islam campaign in Belgium.
The poster by the far-right Vlaams Belang shows a woman wearing the iconic red-soled stilettos.
Words ranging from "Sharia compatible" at the ankle to "stoning" high up a thigh are marked at possible skirt lengths.
The legs belong to Anke Van dermeersch, a senator from the party.
A judge at the Antwerp court has given the party 24 hours in which to take down the posters.
Miss Van dermeersch, a former Miss Belgium, called the decision a political ruling.
Her party has issued another advert, this time with the senator lying down and wearing similar-looking, but yellow-soled stilettos.
There has been no comment from the designer, who said the original advert tarnished his image.