Malala Yousafzai wins EU's Sakharov human rights prize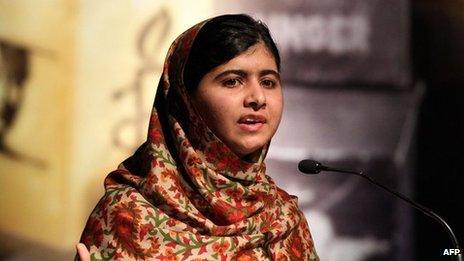 Pakistani schoolgirl and campaigner Malala Yousafzai, who was shot in the head by the Taliban, has won the EU's Sakharov human rights prize.
The 16-year-old activist was shot a year ago for campaigning for better rights for girls.
The Sakharov Prize for free speech is awarded by the European Parliament annually in memory of Soviet physicist and dissident Andrei Sakharov.
US whistleblower Edward Snowden had been a contender for the prize.
The 50,000 euro ($65,000) prize is considered Europe's top human rights award.
Malala rose to prominence in 2009 after writing a blog anonymously for the BBC Urdu service about her life under Taliban rule and the lack of education for girls.
She lived in Pakistan's mountainous Swat Valley and her name became internationally known after the Pakistan army pushed the Taliban out of the area in 2009.
The Taliban's Islamist doctrine puts harsh restrictions on women's rights and one of the militants shot her as she was riding in a bus with school friends.
"Today, we decided to let the world know that our hope for a better future stands in young people like Malala Yousafzai," said the head of the conservative European People's Party (EPP), Joseph Daul.
Malala received a standing ovation in July this year for an address to the United Nations General Assembly, in which she vowed she would never be silenced.
She joins a distinguished list of winners of the Sakharov Prize which includes South Africa's Nelson Mandela and Aung San Suu Kyi in Burma, also known as Myanmar. The award will be officially presented at a ceremony in Strasbourg in November.
Three jailed Belarusian dissidents were also on the shortlist for the prize this year, along with Edward Snowden, who leaked thousands of documents detailing US National Security Agency (NSA) surveillance activities worldwide.