Belgian statesman Wilfried Martens dies aged 77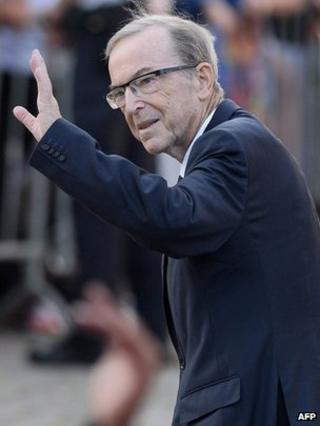 Wilfried Martens, who served nine times as prime minister of Belgium and later led the European Parliament's main centre-right group, has died aged 77.
He died during the night at his home in Lokeren, in East Flanders, in the presence of his wife and children, Belgium's Le Soir newspaper reports.
Mr Martens led coalitions almost continuously between 1979 and 1992.
Current PM Elio Di Rupo, a Socialist, paid tribute to a "true statesman and one of the fathers of federal Belgium".
In honour of Mr Martens, the European Parliament is holding a minute's silence at midday (10:00 GMT) during its plenary session in Strasbourg.
The parliament's German president, Martin Schulz, tweeted that Mr Martens had been a "statesman of Belgium, Europe and an outstanding leader of European Parliament".
Mr Martens remained the leader of the European People's Party (EPP), the parliamentary group he co-founded, until his death, only handing over temporary responsibility on Tuesday.
EPP colleagues paid tribute to him.
"A distinguished colleague, Wilfried Martens has passed away," wrote Finnish MEP Eija-Riitta Korhola in a tweet. "My deepest condolences to his family on behalf of the Finnish EPP delegation."
"Contrary to what is often said, certain people are irreplaceable," former Polish Prime Minister and MEP Jerzy Buzek tweeted.
Friend of Thatcher
As prime minister, Mr Martens presided over coalitions that spanned right and left, implementing austerity programmes.
The cause of death was not reported. According to Le Soir, Mr Martens said his goodbyes to his family in recent days.
He had recently undergone hospital treatment and was due to step down as chairman of the EPP.
Only last month, he tweeted to congratulate the German and Austrian conservative leaders on their election victories.
Britain's Baroness Margaret Thatcher first became prime minister in the same year as Mr Martens in Belgium, and he paid tribute to his "long-time friend" when she died in April.
"Although we had very different visions for the future of Europe, we developed a close personal relationship and shared many special moments..." he wrote in an EPP press release.
"In 1990, just a few days prior to her resignation, I was sitting by her side at a dinner in the Hall of Mirrors in Versailles, discussing her political frustrations. She will always be remembered by her strength, courage and decisiveness."