Costa Concordia wreck: Remains of Indian waiter 'found'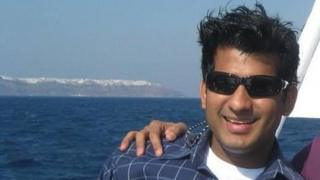 Divers searching the wreck of the Costa Concordia off the Italian coast may have found the remains of one of two people still missing, officials say.
Italy's civil protection agency said it believed the remains belonged to Russel Rebello, an Indian waiter.
An Italian passenger, Maria Grazia Trecarichi, is still unaccounted for.
Thirty people had already been confirmed dead after the cruise ship partially sank off the island of Giglio last year.
Salvage teams moved it to an upright position last month.
"The remains have been found by rescuers on the third deck" of the cruise ship, said a civil protection agency spokeswoman, Francesca Maffini.
"Several elements make us say that they could relate to the body of the young waiter of Indian nationality, Russel Rebello," she said.
The agency the results would not be confirmed for several days, but said Mr Rebello's family had been informed about the development.
An earlier announcement by the authorities that they had found the remains of two human bodies was subsequently played down.
The search for the two people who remained unaccounted for resumed on 24 September, a week after the wreck of the cruise ship had been moved to an upright position and stabilised.
Officials have made the recovery of the remaining bodies a priority.
Divers had previously focussed their search for the two missing people on the fourth deck of the Costa Concordia, where they had reportedly been seen for the last time on the evening of the accident.
The captain of the Costa Concordia, Francesco Schettino, is on trial over the disaster.
He is accused of manslaughter, causing the shipwreck and abandoning ship, but says he is being made a scapegoat for the errors of others.