Parallel lives on Lampedusa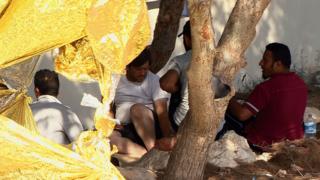 In the last two decades Lampedusa has become one of the main destination for migrants fleeing poverty and conflict zones in Africa and the Middle East. Two different worlds now cohabit on the small Italian island (population 6,000).
Giusy Pavia teaches English at Lampedusa's only school.
She is walking with her children along the sea front at sunset. She says she was not born on Lampedusa because women cannot give birth on the island. They have to travel to Palermo in Sicily where the nearest hospital is. She has lived here all her life.
"It's a friendly island, everyone knows each other, all the children go to the same school, we always say hello to everybody on the streets," she says.
"Life is very quiet here because it is such a small island."
Immigration is part of the life here, Ms Pavia says. "We feel sorry for what's been happening for so many years now.
"It's not new for us. Boats have been arriving here for more than 15 years. We try to offer them support and a little help when they arrive but there is not much we can do. The island has its own problems as well. There is no hospital here, only a first aid centre, and there are not enough jobs for everyone on the island, especially in the winter as a lot of people rely on tourism.
"I am sad because they are forced to leave everything behind, their family but also their identity."
Like many in Lampedusa, she thinks Europe should do more to share the burden between the member states. "These migrants don't come to stay in Italy. Often they have relatives in other European countries and that's where they want to go."
Looking north
In the centre of town in Lampedusa you can see small groups of migrants among the locals, some drinking coffee at the cafe terraces, others sitting on benches overlooking the port.
The reception centre for migrants is overcrowded. More than a thousand people are staying there despite a capacity of only 250. After Thursday's boat tragedy, a further 155 survivors arrived.
Officially the migrants have to stay in the centre but in practice the authorities are pretty lax and let them wander on the island.
As he is returning to the camp from the town with a group of fellow migrants, we meet Bachar, 41, from Syria.
Until recently Bachar was a civil engineer in Aleppo but because of the war he cannot see any future for his family in Syria.
From Aleppo, he managed to reach the Turkish city of Istanbul and from there took a flight to Tripoli in Libya. After spending two months in Libya he finally got on a boat with 350 other migrants and arrived in Lampedusa at the end of a 24-hour journey. He paid $1,000 (£622; 737 euros) for the dangerous crossing.
"I have been here 11 days now," he says.
Bachar points at a couple of trees where the foil blankets given to the migrants by the coast guards hang to provide some shelter from the sun and the wind and says that this is his bed. "We sleep and we eat outside, it's bad."
But he adds that the atmosphere inside the camp is pretty friendly between the different ethnic groups. "Relations between us are good, we all have a tragedy in our countries."
It is the second time Bachar finds himself in Italy. "The first time I travelled to Rome with my wife for our honeymoon but now it's very difficult to get a visa to Italy. "
When asked where he wants to go from here, he pauses. "I don't know, maybe Germany or Holland - but not Italy," he says.