Priory Hall: Fire hazard flats residents offered deal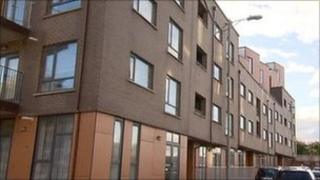 People who had bought flats at a north Dublin complex deemed to be a fire hazard have been offered a deal to resolve the dispute.
More than 240 residents of the Priory Hall apartments were moved out of their homes in October 2011 after a court ordered work to make the building safe.
The details are not being made public while residents consider the plan.
However, reports suggest that owners will have their mortgages written off.
The flats were built by former IRA hunger striker Tom McFeely, who is originally from Dungiven, County Londonderry. He went on to become a multi-millionaire property developer during the Celtic Tiger housing boom.
Residents of Priory Hall were moved to emergency hotel accommodation by order of the High Court in Dublin, due to fears that the safety regulation breaches were so serious a fire could spread through the whole building in minutes.
Senior civil servants have brokered three weeks of negotiations involving former residents, banking representatives and the city council.
Irish Minister for the Environment Phil Hogan said he believed the proposals were "a fair and reasonable outcome".
Mr Hogan said the complex would be "refurbished into a desirable, high quality, safe location by Dublin City Council".