Romania deputy PM Liviu Dragnea faces vote fraud charge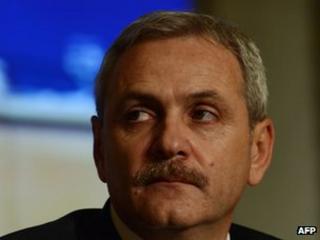 Romania's deputy prime minister has been charged with trying to rig a referendum that last year failed to oust President Traian Basescu.
Liviu Dragnea and 74 others are accused of falsifying data to sway the vote's outcome. Mr Dragnea denies the charge.
Prime Minister Victor Ponta's governing coalition called the July 2012 vote to impeach Mr Basescu, a political rival.
A low turnout invalidated the vote, but Mr Dragnea is accused of encouraging dirty tricks to increase voter numbers.
The impeachment case and its fallout have raised European Union concerns over corruption and political influence in its second-poorest member state.
Prosecutors accused Mr Dragnea of using his authority within Romania's Social Democrats to influence the referendum's outcome.
'Politically motivated'
The former secretary-general allegedly urged local party leaders "to do their best and break the law" in falsifying data in an effort to meet a required turnout of 50%, according to Agence France-Presse.
Although 87% of those who participated in the referendum wanted Mr Basescu to go, the vote was thrown out as the turnout fell short of the threshold.
Prime Minister Victor Ponta said the case against his deputy was politically motivated and blamed Mr Basescu.
"I am confident the judges will refute these 100% political allegations," he said.
Mr Ponta's centre-left Social Liberal Union coalition beat Mr Basescu's centre-right Romania Alliance party in general elections last December.
The pair had been locked in a power struggle since Mr Ponta came to power in April 2012 following the collapse of the previous centre-right government.