A 'European tragedy' off Lampedusa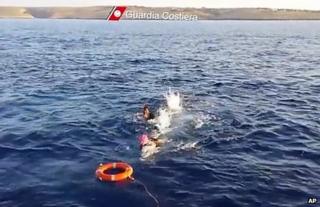 The seas off Lampedusa were rough today and some of the rescue operations were suspended.
They were hoping to send down divers to recover the bodies still trapped in the capsized boat which lies 40m (130ft) beneath the surface.
The precise numbers of those on the 20m boat are not known but some survivors estimated there were 500. Nearly 200 people are unaccounted for. Some say there were nearly 100 women on board but none of them survived.
The boat capsized within 800m of the tiny outcrop of Coniglio. Only the strongest swimmers made it to safety. Some survivors said they could see the lights of Lampedusa.
The tragedy was that none of the migrants had phones to call for help.
Some of the rescuers have been speaking about what happened. The captain of a Guardia di finanzia vessel said that when he arrived there were so many people in the water that he could not manoeuvre the boat. A fisherman said that he injured his arm lifting 18 people into the boat. Many were without clothes, their bodies covered in kerosene.
On the day of this tragedy two other boats with migrants arrived in Lampedusa. The numbers are increasing again with people prepared to risk everything to leave parts of Africa or the turbulence of the Middle East. Refugees from Syria have been discovered in recent weeks.
The arguments have begun over how to stop this tragic loss of life. An estimated 25,000 have lost their lives in the past twenty years.
Some officials are saying that if you close borders then you give more power to the traffickers. Others point out that there are 26 million out of work in the EU and that Europe is reluctant to accommodate more migrants.
UN Secretary General Ban Ki-moon said yesterday that there needed to be "more channels for safe and orderly migration". It might help but it remains likely that thousands will still try and migrate to Europe.
Home Affairs Commissioner Cecilia Malmstroem vowed to "fight smugglers exploiting human despair".
None of this is easy but officials are saying that the migrants have become a "European tragedy".