Greece: Golden Dawn deputy head Christos Pappas remanded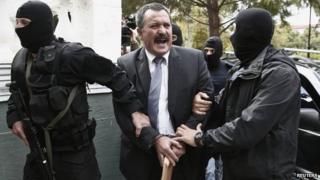 The deputy leader of the Greek far-right party, Golden Dawn, Christos Pappas, has been remanded in custody on charges of organising a criminal group.
The party's leader Nikos Michaloliakos, and one of its MPs, Yiannis Lagos, have been moved to a high-security prison, pending their trial on similar charges.
Six MPs from the far-right party were arrested at the weekend.
Golden Dawn leaders deny charges linking them to the killing of a left-wing activist by a party supporter.
Anger
There was outrage after Pavlos Fyssas, a hip-hop musician, was stabbed to death last month. Amid street protests, Prime Minister Antonis Samaras' conservative-led government has promised to "eradicate" Golden Dawn.
"This is the most dynamic confrontation of a neo-Nazi criminal organisation in European history, perhaps in world history," the AFP news agency quoted a government spokesman, Simos Kedikoglou, as saying.
Nikolaos Mihaloliakos, 56, is the first elected party chief in Greece to be held in prison in more than 30 years.
As police marched him out of the courthouse, he shouted "Long live victory!''. It was a direct translation of the Nazi "Sieg Heil'' slogan.
Dozens of people have been arrested in an crackdown against Golden Dawn. Several police officers face charges ranging from illegal weapons and ammunition possession, to abuse of power.
'Organised attacks'
Mr Michaloliakos' party gained support from voters discontented with economic crisis and on-going austerity measures. However there were widespread accusations that it organised attacks on immigrants, political opponents and homosexuals.
Golden Dawn has denied the claims. The party's popularity has waned since the killing of Mr Fyssas.
Mr Michaloliakos and Mr Lagos are being held in part of the Korydallos Prison. Their cells are near to, but isolated from, those where convicted members of the far-left November 17 group are held.
Golden Dawn was elected to Parliament in June with nearly 7% of the vote,