Russia 'rounds up Sochi migrants' - Human Rights Watch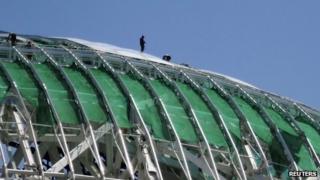 Russia has detained hundreds of migrant workers, many of whom helped to build sites for the 2014 Winter Olympics in Sochi, Human Rights Watch says.
The workers were rounded up on charges of violating migration and employment regulations, an HRW report says.
Many are being held in "arbitrary and inhumane conditions", it adds.
Russia, as Winter Olympics host, has already come under fire by rights activists for passing controversial legislation seen as anti-gay.
'Raid brigades'
So far there has been no official response to the latest Human Rights Watch (HRW) report.
The BBC has approached the International Olympic Committee (IOC), Russian interior ministry and Krasnodar regional authorities, but none of them were available to comment.
According to the report, the authorities have been raiding workplaces, homes and public places and detaining hundreds of migrants since September.
The campaign group says the raids began after a speech by Alexander Tkachev, Krasnodar regional governor, who called for "raid brigades" composed of police and other security officials to "clean up" the streets of Sochi on 3 September.
Many workers appear to have been targeted because of their non-Slavic appearance, the report alleges, with many held in overcrowded temporary holding cells and some being detained for more than a week.
There have been instances where workers were denied access to a lawyer, where police denied they were being held and where some have been expelled from the country without a lawyer present, it adds.
Lawyer Alexander Popkov told the rights group he had seen 40 to 50 men held in a makeshift shed in the courtyard of Sochi's main police station on 24 September. He took a video of the scene, questioning the detainees on how long they had been held there.
"One man said he had been there eight days... the men claim that they had not been given food, had no place to sleep, and that the shed did not provide protection from the rain, wind, or cold," the report said.
HRW's Europe and Central Asia associate director, Jane Buchanan, said it was "outrageous for the migrant workers who helped to build Sochi's shiny new Olympic venues to be herded into detention and deported".
The campaign group has called on the IOC to tell the Russian authorities that the rounding up of migrants was "completely unacceptable for an Olympic host city and that abusive detentions must stop immediately".
Tens of thousands of migrants from Central Asia are believed to be working on construction of Olympic venues.
Human Rights Watch says Russian citizens from outside Sochi are also among those rounded up.