Italy: Your views on the confidence vote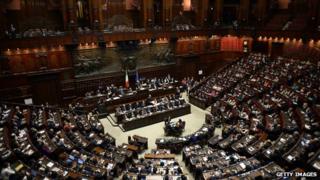 The Italian Prime Minister Enrico Letta has won a confidence vote after a last-minute U-turn in his favour by his predecessor Silvio Berlusconi.
Mr Berlusconi had ordered five ministers in his centre-right Freedom of People party (PDL) to leave the government's cross-party alliance.
In turn, Mr Letta refused to accept the resignations and called a vote of confidence.
But Mr Berlusconi's plan to bring the government down began to unravel when the ministers signalled their own unwillingness to leave the government.
Italian voters have contacted the BBC News website with their reaction to events. Here is what some of them have to say.
Giuliana Mazzoni, Florence
The vote of confidence in the Letta government ends a recent crisis representing a sad example of Italy's lasting problems in coming to terms with the idea of a "common good" and the ability to understand what a government is for.
It is not just the personality of Mr Berlusconi and his need to consider the PDL party as his "own" company.
It is also the fact that many of those who voted for him share with him the opinion that laws are basically irrelevant and should be bent to accommodate individual needs.
Italy is a relatively recent country, and the idea of laws that protect and represent its citizens is still rather foreign to many.
PDL voters also find it perfectly normal that Mr Berlusconi "owns" the politicians in his party, and should dictate their behaviour.
Mr Letta's new government will remain, built on somewhat shaky grounds. Nonetheless, this vote of confidence raises some hope for the future, as it shows an awareness in members of the centre-right party of their role to represent their electorate, not their "boss".
The future role of Mr Berlusconi is more difficult to predict. He is a fighter, he has an immense amount of money and still the ability to move at will some key players.
The hope here is that he will pass on to history an excellent example of how a politician should never behave, and future generations will learn from it.
Only through a mature civic education is there hope that in Italy these small men will no longer come into power.
Bruno Alabiso, Naples
I have watched with dismay the entire senate proceedings this morning.
The sudden unexpected 180-degree turn by Berlusconi should make it evident to anyone who still has doubts about this crafty and callous individual that the government, and its institutions, are just a stage for the various games he plays to support exclusively his own interests.
I hope that this becomes evident to all, although I have to shamefully admit that his charisma still seduces many.
As for the present government, it is a very, very lame duck.
How can two coalitions with opposite goals co-govern?
The scene in the senate was embarrassingly unequivocal, as senators of both coalition parties literally insulted each other.
And the people in the streets have become completely uninterested in the whole soap opera. The senate session has been dubbed by local media reporters as a "psychiatric ward".
Any political party or government is seen with suspicion and distance, which exacerbates the distance between government and citizens.
Italy is a country that miraculously, and somewhat criminally, manages to work without a real government.
Remo Nogarotto, Milan
The degree of independence and strength shown by some of Berlusconi's now former loyal lieutenants is quite extraordinary and certainly unprecedented during his 20 year dominance of Italian politics.
Whilst it does not represent his political death, he is badly wounded and it is likely that a new centre right grouping will emerge from the debris of what was a party that he once ruled with an iron fist.
Prime Minister Enrico Letta emerges emboldened by today's events.
His fragile coalition cobbled together five months ago by President Napolitano and with little prospect of any parliamentary longevity is now considerably stronger, though not impregnable.
He now has within his cabinet senior ministers from the centre right who have defied the instructions of their party's founder, Berlusconi, and exercised the sort of independence that will allow the government to embark on its much needed reform agenda.
Pietro D'Angelo, Imola
I was really hoping that Letta would win the vote of confidence, because we need a government with stability.
But the Letta government in its first five months did nothing.
Today in his speech to the Senate Letta said that his government has already done a lot, but there were no actions to revive our moribund economy, or to reduce our taxes that are the highest in the world, or to cut down our unemployment, and so on.
At last Mr. Berlusconi had a great defeat.
He's really an anomaly of Italian politics, he manages his political party as a dictator.
He had ordered his five Cabinet ministers to quit the government and bring it down.
I hope Berlusconi's setback may be the beginning of a new leadership of the conservative Party.
My last thought is for my beautiful Italy, it needs a government that can produce structural and institutional reforms, also our unfair and inefficient judicial system, that the country needs to modernize.
Meritocracy should be our belief.
But I'm sure that Letta's left-right coalition doesn't want to do it!
Vittore Pecchini, Venice
On any Italian Court wall, behind the Judge's seat, is written "La Legge e' uguale per tutti" (the law is the same for everybody).
Every Italian believes that this is a very good principle. Not many Italians believe that this is true.
Particularly today, Italian public opinion is waiting to see what will happen to Mr Berlusconi in the next few months.
Berlusconi's strong attack on Mr Letta's government is probably an attempt to fight to stay "politically alive".
The result of the vote is very good news for Italy and Europe.
Seeing that his attack was going to fail and that his party was falling apart, Berlusconi decided to "change his mind" at the very last moment and voted to support the government.
Many commentators around the world were surprised at this sudden change, but I think that Italians were not.
Mr Berlusconi is a good player. For the moment he has avoided breaking completely his party and his "political protection".
It was probably too late and he will probably not last as a political leader.
But with Mr Berlusconi you never know: he is clever and he has virtually unlimited resources.
Interviews by Amber Dawson