Decision day dawns for Italy and Berlusconi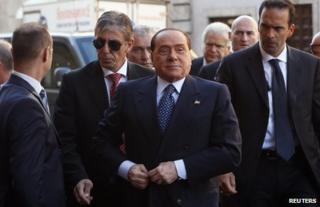 Italian Prime Minister Enrico Letta is fighting to save his government. Having made a speech defending his five months in power, he will gauge opinion in the Senate and then decide whether to call for a vote of confidence.
To survive he will need around 20 votes from senators from Silvio Berlusconi's party. Forty-eight hours ago that looked unlikely. Berlusconi had said: "Even though I understand the risks that I am taking on, I have decided to put an end to the Letta government."
That may prove to have been a serious miscalculation. Even though Silvio Berlusconi has dominated politics for 20 years, a considerable number of his MPs and senators look set to defy him.
There is a growing sense that the Berlusconi era is coming to an end and that Italy cannot be held to ransom over his legal battles. One of his allies said there was a choice between doing what was right for the party and what was right for the country.
The expectation is that Prime Minister Letta will survive but one of Silvio Berlusconi's MPs warned this morning that in Italy "politics works in the night".
He suggested that the 40 MPs who were expected to rebel had already dwindled to 28. One of Berlusconi's oldest allies said this morning that he had been talking to the man who calls himself Il Cavaliere until 01:30 but will be voting for Mr Letta. He said Berlusconi should not put his personal issues before the issues of the country.
So the political drama being played out in Rome today is of great significance. If Enrico Letta wins then the question is how stable will his government be. Will it be able to carry out the reforms that Italy, stuck in its worst recession since World War II, so desperately needs?
If he loses, the government will fall although the president might still ask Mr Letta to try and form a new coalition. If that proves impossible, then elections will follow and Italy faces weeks of uncertainty. The ratings agencies may well downgrade the country.
The day will also decide whether Silvio Berlusconi's grip on his own party has been broken and whether we are entering a new era in Italian politics.