Meredith Kercher murder: Amanda Knox retrial opens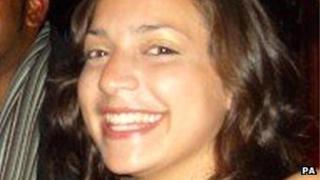 A new trial of two suspects over the 2007 murder of British student Meredith Kercher has opened in Italy.
Amanda Knox, from the US, and her Italian then-boyfriend Raffaele Sollecito were found guilty in 2009 but acquitted on appeal in 2011.
In March, Italy's highest court overturned both their acquittals.
The suspects spent four years in prison before their acquittal, and have always insisted they are innocent. Neither was in court.
'So scary'
The retrial - or, strictly, a re-appeal - is being held in the central Italian city of Florence. The first session is expected to discuss procedural issues such as dates for further hearings.
The retrial was ordered after the prosecution had taken the case to Italy's Supreme Court.
The court strongly criticised the way the appeals court had dismissed important DNA evidence, ordering the whole process to begin all over again.
Ms Knox, 26, has since returned to the US and was not required to be present for the retrial.
Earlier this month, she said she expected to win another acquittal, but that "common sense" told her not to return to Italy.
"I was already imprisoned as an innocent person in Italy," she told America's NBC television. "I just can't relive that."
"I thought about what it would be like to live my entire life in prison and to lose everything, to lose what I've been able to come back to and rebuild.
"I think about it all the time. It's so scary. Everything is at stake.''
However, if her previous conviction is confirmed, Italy would be expected to request her extradition.
Mr Sollecito, 29, has been living in the Dominican Republic, but it has been reported that he intends to return to Italy to attend parts of the retrial.
Meredith Kercher, from Coulsdon, south London, was found dead in a flat she shared in Perugia with Ms Knox, a fellow exchange student.
Prosecutors said Miss Kercher, who had been repeatedly stabbed, died in a sex game that went wrong. She was 21.
Both Ms Knox and Mr Sollecito maintain their innocence.
Ms Knox insists that on the night of Miss Kercher's death she was at Mr Sollecito's flat, smoking marijuana and watching a film.
Another man - Rudy Guede from Ivory Coast - was convicted in a separate trial and sentenced to 16 years for the killing.