'Six arrests' as Paris police probe airport gold theft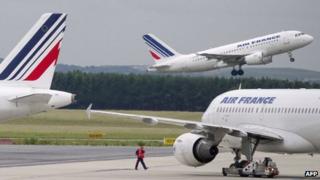 French police investigating the theft of gold bars worth 1.6m euros ($2.2m, £1.3m) from a plane at Charles de Gaulle airport in Paris have arrested six men, AFP reports.
The bars were stolen from the Air France plane before take-off on 19 September, but the theft was only discovered the following day, after it arrived in Zurich.
The men were held in and around Paris.
Searches to recover the gold were under way, the agency said.
Employees of the security firm Brink's had placed the gold inside the plane.
In a statement, Brink's said the bars were no longer "under its responsibility when they disappeared".
Earlier this month, a huge haul of cocaine was seized on an Air France plane after it arrived at Charles de Gaulle from Venezuela.
Air France employees and airport officials are reportedly among those under arrest in Venezuela in connection with that incident.