Alpine climber finds 'India plane crash' jewels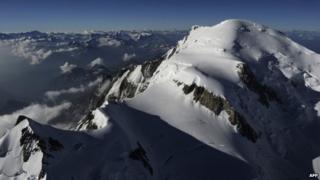 A French mountain climber high in the Alps has stumbled across a box of precious jewels thought to be debris from a plane crash decades ago.
The hoard of sapphires, emeralds and rubies worth hundreds of thousands of dollars was found near Mont Blanc.
The metal case marked "Made in India" is believed to have come from an Air India crash in 1966.
The author of a book on the crash says the jewels may have been intended for a man living in London at the time.
The BBC's Hugh Schofield in Paris says that it is almost certain that the jewels were on a 1966 Air India Boeing 707 flight to New York - via Geneva and London.
The plane crashed into a glacier near the mountain, killing all on board.
The glacier has periodically delivered relics from the accident. Last year mountaineers found an Indian diplomatic bag that was on the plane.
According to the author, Lloyds of London insurers at the time sent a letter to French authorities informing them that a parcel containing emeralds had been on board the flight.
The intended recipient of the parcel was a Mr Issacharov of London. He or his descendants might be very interested by this latest development, our correspondent says.
Police praised the honesty of the climber - who has asked to stay anonymous - for handing the treasure in.
"He could have kept them but he chose to turn them in because he knew they belonged to someone who probably perished," local police officer Sylvain Merly said.