Niall Mellon Township Trust postpones Kenya building trip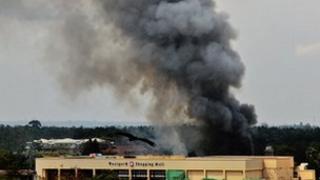 An Irish house building charity has postponed a trip to Kenya after at least 67 people were killed in an attack on a shopping mall in the capital Nairobi.
A team of volunteers from the Niall Mellon Township Trust was due to fly out to Africa next month.
But in a statement on its website the charity said it was "with great regret" that the trip had been postponed.
The safety of volunteers was "our number one priority", it added.
The statement was signed by the trust's founder, businessman and philanthropist Niall Mellon.
"It is with great regret that following the recent tragic events in Nairobi I, along with unanimous support from the charity's board of directors, have taken the decision to postpone the building blitz to Kenya," the statement said.
"I know many of you will be disappointed... but the safety of our volunteers is our number one priority.
"We have earned a prestigious reputation over many years for the excellence with which we look after all our volunteers and if I don't feel we can take enough security measures to protect you, then we will not travel.
Stormed
"We are postponing this current trip until a later date and will make a reassessment when the security threat level in Nairobi has reduced."
The postponed trip was due to take place from 12-19 October and was to help in the building of a primary school in the Mukuru district of Nairobi.
The attack on the Westgate shopping mall began last Saturday.
A gang of between 12 and 15 suspected Islamist militants stormed the mall, throwing grenades and firing on shoppers and staff.
A siege of the mall lasted four days, and a forensic examination of the centre is expected to last up to a week.